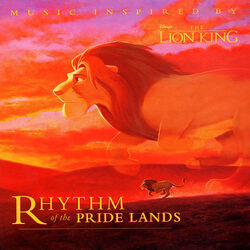 "
Busa
" is Track 10 from the CD
Rhythm of the Pridelands
. Music and lyrics by
Jay Rifkin
,
Lebo M
, and
Hans Zimmer
, performed by Jay Rifkin, Lebo M, and his South African chorus.
The song can also be heard in The Lion King when Simba is running through the desert to return to the Pride Lands and during the film's credits. It is also heard in The Lion King 1½ when Pumbaa reunites with Timon during the climax of the film almost as a perody.
Lyrics
(Chorus)
Busa le lizwe [Rule this land]
Busa le lizwe [Rule this land]
Busa lomhlaba wethu [Rule this land of ours]
Busa ngo xolo [Rule with peace]
(Repeat)

Shwele baba [Hail to you, Father]
Siyakubongela [We are grateful to you]
Usi lethel' injabulo [You brought us happiness]
Noxolo [And peace]

Shwele baba [Hail to you, Father]
Siyakubongela [We are grateful to you]
Liqhakazise baba [Brighten our future]
Ngo thando [With love]

(Repeat chorus twice)

Bayede baba [Father, we salute you]
Sikhokhele bo [Lead us]
Busa lomhlaba [Rule this land]
Ngo thando [With love]
(Repeat)

Busa ngo thando [Rule with love]
Busa ngo thando [Rule with love]
Busa ngo thando [Rule with love]
Busa ngo xolo [Rule with peace]

(Chorus)

Ubuse ngo thando [You must rule with love]
Ubuse ngo xolo [You must rule with peace]
Ubuse ngo thando [You must rule with love]
Busa Simba, busa Simba [Rule Simba, rule Simba]

(Chant)
Hemna iyo
Hemna iyo
Hemna nkosi

Oh busa Simba iyo [Rule Simba]
Vusa amakhosi [Wake the ancestors]
Vusa amdlozi bo [Wake the spirits]
Busa Simba iyo [Rule Simba]
(Repeat to end)