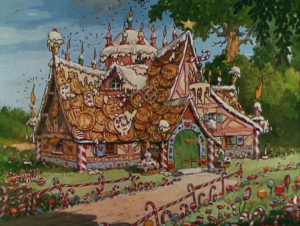 The
Candy House
is the home of the Witch in the original tale of
Hansel and Gretel
. It has been used repatedly with several design, first for the 
Witch
 from the
Silly Symphony
short
Babes in the Woods
(which actually merges the tale of
Babes in the Woods
with 
Hansel and Gretel
), and later for the 
Witch in the Candy House
 featured in
a later adaption of Hansel and Gretel
, and later in 
Once Upon a Time
where the witch is blind.
Description
In all versions, the House is used as bait by the witch to attract and capture children like Hansel and Gretel, whom she plans to eat.
Differences between versions
The outside appearance of the house was pretty similar in all three versions. However, the inside was widely different.
In Babes in the Woods, the outside of the house is the only part made of candy, while the inside is a small and dusty stone room where the Witch lives and stores her captures, with a hatch on the floor leading to an underground cave where she keeps some of the kidnapped children. In Hansel and Gretel however, the inside is way bigger than could actually fit in the inside of the house, with many rooms and corridors, decorated in a style resembling a mansion. For some reason, most of the corridors are decorated with framed pictures of fishbones. Although the inside does not actually seem to be made of candy, when Mickey and Minnie try to flee the house, they encounter many bewitched candy beings hidden throughout the housen. In Once Upon a Time, much like in Hansel and Gretel, the inside of the house is not outright made of candy but is the warehouse of many other treats.
Community content is available under
CC-BY-SA
unless otherwise noted.