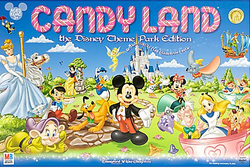 Candyland is a board game made by Hasbro. A Disney Theme Park version of the game was released in 2001, with a newer version released in 2020.
Description
All your favorite Disney friends are ready to welcome you to the most magical land in the Magic Kingdom...Fantasyland! Here you will journey through a world of imagination, wonder, and fantasy. You and your friends will enjoy many magical moments along the way.
Be the first to reach Cinderella Castle and win the game!
Details
Gallery