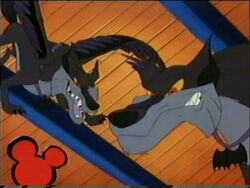 Canis and Lupis are a pair of wicked winged wolves (also known as Empusa) who work for Hecate. They appear in Hercules. They have wings and are usually black, although look blue in one scene.
They speak eloquently, but really are very vicious.
Trivia
When the names of the wolves are joined together, they form "Canis lupus", the scientific name of the wolf.
Lupus is actually the name for a condition, which mostly affects women that may bring on a rash. A 'chronic autoimmune disease that can damage any part of the body'. Its full name is Systemic Lupus Erythematosus, the acronym being SLE. As of now, there are 4 types of Lupus. Unfortunately, it cannot be cured. Possible conditions/symptoms could be fever, fatigue, dry eyes, headaches, and lots more.
It is possible they are inspired by the enfield, a fictional creature featured in heraldry that is sometimes portrayed as a winged wolf or dog.