Wiki Targeted (Entertainment)
Play Sound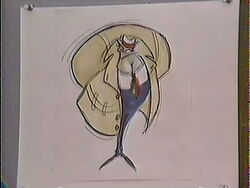 Captain Cleaver is a deleted character from Who Framed Roger Rabbit. He's a tough, gruff Toon human police captain from Toontown and the head of the T.P.D. Homicide Division.
Cleaver is very combative with Eddie Valiant in terms of who's going to solve the Acme case. One can only imagine what sort of twists a Toon human in an angry and confronted match over jurisdiction would have generated, and it's not only a good example of why this film works, but also why people have always wanted a sequel.
In the screen tests, he was voiced by Jack Angel.
He is based on Captain Cleaver from the novel Who Censored Roger Rabbit?.
Quotes
(Pulling out his gun and poking Valiant) "Get off the Roger Rabbit case. I got the Wife pegged as the killer, and I'm an inch away from proving it. You keep poking around you're liable to screw up my play...and that would make me very unhappy."
Gallery