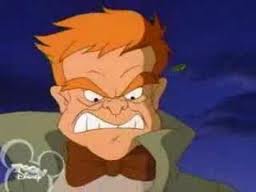 Captain Klegghorn
[1]
is the quaternary antagonist later anti-hero of
Disney's the Mighty Ducks.
He is a police officer for the city of
Anaheim
who initially doesn't trust the ducks, particularly due to the lack of evidence that
Dragaunus
even existed in the first place. While he still doesn't like them, eventually they come to terms when he helped Wildwing retake the Pond when the Saurians took their headquarters. He is voiced by
Dennis Franz
.
[2]
[3]
Trivia
He was introduced as the main antagonist, but this was the plot to reveal the true main villain later on.
His voice actor, Dennis Franz, is famous for playing policemen, most notably NYPD Blue.
Episode Appearances
The First Face-Off Part 1 & 2
Take Me To Your Leader
The Human Factor
Microducks
Beaks vs B.R.A.W.N.
Mondo-Man
Puck Fiction
The Final Face-Off
The Iced Ducks Cometh
The Return of Asteroth
Duck Hard
To Catch a Duck
Gallery
References
Community content is available under
CC-BY-SA
unless otherwise noted.