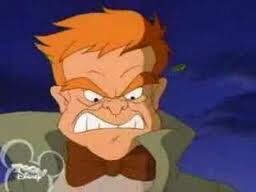 Captain Kevin Klegghorn[1] is a character in Mighty Ducks that is introduced as an antagonist, but later reforms and becomes an anti-hero.
He is a police officer for the city of Anaheim who initially doesn't trust the ducks, particularly due to the lack of evidence that Dragaunus even existed in the first place. While he still doesn't like them, eventually they come to terms when he helped Wildwing retake the Pond when the Saurians took their headquarters. He is voiced by Dennis Franz.[2][3]
Trivia
His voice actor, Dennis Franz, is famous for playing policemen, most notably on NYPD Blue.
Gallery
References