Captain Super Captain is a superhero citizen from Penn Zero: Part-Time Hero.
Background
Personality
Captain Super Captain is the fundamental superhero: powerful, brave, and booming with a slight ego. Though he is overconfident with his superpowers, he does learn to acknowledge that his non-super talents can also make him a hero, thanks to Penn. He also appears to have a strong degree of care for allies and relatives whether they be mind-controlled or simply evil, as he often implores them to be good rather than directly fight them. Much to the irritation of everyone else, Captain Super Captain has a habit of taking time to announce his name in a bombastic manner.
Trivia
It is revealed in "I'm Still Super!" that Captain Super Captain and his brother are Jewish.
He is probably a good singer, as he sang at Giant Old Lady's son's wedding.
His voice actor, Adam West, was famously known to portray DC character Batman from the 1960s to the 1980s.
In "Save the Worlds", Captain Super Captain reveals that he is allergic to monkeys.
v - e - d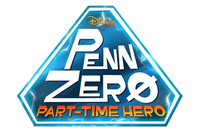 Locations
Middleburg • Middleburg Central High • The Odyssey • Fish Stick on a Stick • North Pole • Knight World • Superhero World • Arabian World • Plush Toy World • Clown World • Dinosaur Cowboy World • Cereal World • Old English World • Giant Monster World • Zombie World • Space World • Ocean World • Color World • Musical Fairy Tale World • Caveman Spy World • Future Barbarian World • Ultrahyperball World • Demon World • Alien World • Galaxy World • Temple World • Dragon World • Gothic Mystery World • Plant World • Animal Barbarian World • Toy World • Outer Space Court World • Robot World • Pirate World • Fairymania World • Steampunk World • Ball World • Ghost World • Rock, Paper, Scissor World • Beast World • Anime World • Sitcom World • Nothingness • Most Dangerous World Imaginable • Least Dangerous World Imaginable
Objects
Multi-Universe Hologram Uplink • Multi-Universe Transprojector • Pigoilet • The QPC Unit • Vortex Tops • Specs
Community content is available under
CC-BY-SA
unless otherwise noted.