Captain Tim is an Arachnomorph alien who first appeared in Wander Over Yonder. He is the pet of Lord Hater.
Role is the series
Captain Tim first appeared in the episode entitled "The Pet". On an abandoned space ship, Wander discovers the alien as it coughs up a collar that says Captain Tim, so he names the alien according to his collar, which originally belonged to the ship's captain. However, Sylvia soon discovers that "Captain Tim" was the one who attacked the ship and the real Captain Tim. Nonetheless, Wander begins training him and treating him like a dog. Later on, he gives Captain Tim a stuffed animal and he rips it to shreds, covers it in a green gel, and sticks him to the ceiling. Wander then screams in excitement signaling Sylvia to rush to find him. She sees the orange stuffed animal on the ceiling thinking it is Wander and panics to take him down. Believing Wander is dead, Sylvia commands the ship to self-destruct as she is sent into an escape pod, sad and miserable thinking not to turn back. However, when she sees Wander still alive with Captain Time, Sylvia returns to rescue Wander just as the ship explodes, although Wander brings Captain Tim along with him in their orbble bubble. Wander says that Captain Tim is good and shows Sylvia the tricks he taught Captain Tim. Despite this, Captain Tim remains violent as he tries to eat Wander, so Wander and Sylvia compromise and agree to give him to Lord Hater.
On Lord Hater's ship, Peepers and Watchdogs are going crazy from the vicious alien but Hater likes him. At the end, Wander asks Sylvia if he can visit him sometime and she replies "Absolutely not."
Appearances
Season 1
Season 2
v - e - d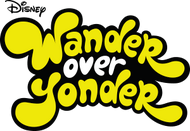 Organizations/Groups
Lord Hater's Army • Insurgent Generals • Wander and Sylvia • Bounty Hunters • Lord Dominator's Army • Galactic Villain Leaderboard • Emperor Awesome's Army
Locations
Lord Hater's Spaceship • Binglebopolopolis • Doomstone • Baaaaa-halla • Phunulon • Ballzeria • Buster • Doom Arena • Planet Ziziks • Flendar • Lord Dominatior's Spaceship • Arachnomorph Homeworld
Community content is available under
CC-BY-SA
unless otherwise noted.