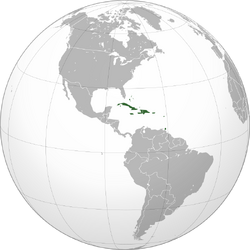 The
Caribbean
or more commonly
Antilles
is a region that consists of the
Caribbean Sea
, its islands (some surrounded by the Caribbean Sea and some bordering both the Caribbean Sea and the North Atlantic Ocean), and the surrounding coasts. The region is southeast of the Gulf of Mexico and the North American mainland, east of Central America, and north of South America.
Situated largely on the Caribbean Plate, the region comprises more than 700 islands, islets, reefs, and cays. These islands generally form island arcs that delineate the eastern and northern edges of the Caribbean Sea. The Caribbean islands, consisting of the Greater Antilles on the north and the Lesser Antilles on the south and east (including the Leeward Antilles), are part of the somewhat larger West Indies grouping, which also includes the Lucayan Archipelago (comprising the Bahamas and Turks and Caicos Islands) north of the Greater Antilles and Caribbean Sea. In a wider sense, the mainland countries of Belize and Guyana – historically and culturally part of the British West Indies – may be included.
Appearances
| | |
| --- | --- |
| | This page uses content from the English Wikipedia. The article or pieces of the original article was at Caribbean. The list of authors can be seen in the page history. As with Disney Wiki, the text of Wikipedia is available under the GNU Free Documentation License. |
Community content is available under
CC-BY-SA
unless otherwise noted.