The relationships of Carl Fredricksen.
Friends
"Good afternoon. My name is Russell and I am a wilderness explorer in tribe 54, squad lodge 12. Are you in need of any assistance today, sir?"
―Russell asking Carl for help.
Carl had met Russell for the first time while in the construction zone and again when the house took to the skies. Throughout the movie, Russell assisted Carl to help him bring the house to Paradise Falls. Russell was upset that Carl broken his promise to protect Kevin when she was birdnapped by Charles F. Muntz. At the ceremony, Carl awards Russell the Ellie Badge, and count the red and blue cars at the end.
"My name is Dug. I have just met you, and I love you."
―Dug to Carl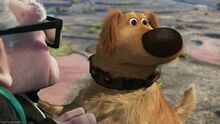 While taking the house to the falls, Carl and Russell meet Dug and explains why he can talk. Dug states that he loves Carl and thinks he is his master, which Carl states that he isn't, until he was while helping Russell save Kevin.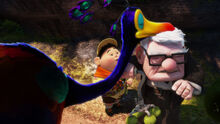 At first, Kevin thought Carl was mean until Russell states that he is nice. That night Carl thought for a moment and decided to let Kevin come with him to the falls. The next morning Carl, Russell and Dug find Kevin on the house roof, calling to her babies. Kevin was hurt while escaping Charles F. Muntz, and was birdnapped, which made Carl feel terrible about. But after bringing the house to the falls and looking through the "My Adventure Book", he followed Russell to save Kevin and brought her home.
Romance
When they first met as kids, Ellie showed Carl the "My Adventure Book" and would someday go to Paradise Falls. When they were married, they had adventures together, worked at the zoo and enjoyed their company, they even made at art photo of the house at Paradise Falls. After that Ellie past away, but Carl still kept her promise to get to the falls. In fact, he went to Paradise Falls in his floating house.
Enemies
His childhood hero, Charles Muntz was on the search for the Monster Of Paradise Falls. When they met for dinner, while talking, Carl had realized that the monster was Kevin, which that Muntz wasn't happy about. While saving Kevin, Carl and Muntz fought, then he tried to take down the house until his foot caught on the balloon strings and fell.
Community content is available under
CC-BY-SA
unless otherwise noted.