| | |
| --- | --- |
| | Carl Karl is a featured article, which means that it has been identified as one of the best articles produced by the Disney Wiki community. If you see a way this page can be updated or improved without compromising previous work, please feel free to contribute. |
"Sorry, sir..."
―Carl to Major Monogram
"Man! I thought it was a real girl..."
―Carl

Carl Karl is a supporting character of the popular Disney Channel TV show, Phineas and Ferb. He is the unpaid intern and cameraman of Major Monogram.
Background
Personality
Carl is shown to be earnest and loyal, although a bit beleaguered by Monogram's strictness. Carl greatly yearns to earn Monogram's respect despite the difficulty that comes with dealing with his boss, although he is often met with Monogram's disapproval to his dismay. He seems to want Monogram to be proud of him and is jealous of his son Monty. Carl also seems to enjoy being a full-on agent as it gives him a chance to do something beyond being an intern. He is a bit careless and sometimes forgets to focus the camera, causing Major Monogram to be humiliated during some occasions. In one occasion, in particular, Carl accidentally didn't zoom in, revealing that Major Monogram isn't wearing any pants. He is also desperate for a girlfriend.
Physical appearance
Carl has red hair and wears purple framed glasses, dark green eyes and he also has freckles. His outfit consists of a white shirt with three white buttons, light brown pants, and orange sneakers. He also used to wear braces.
When under the influence of Doofenshmirtz's Ultimate Evil-inator, he was seen wearing a black leather jacket, a pair of shades over his eyes, and jeans. However, he was mostly seen in his normal clothes despite his new "evil" persona.
Role in the series
Carl comes from a family of unpaid interns and is very loyal to Major Monogram. He works at the O.W.C.A. for college credit. When Major Monogram is briefing Perry on missions, Carl is the one working the camera on Monogram. On some occasions however, he is sent on his own missions to help cover for Perry's double-life. Carl also has his own theme called Carl the Intern that plays for his missions. In "Where's Perry?," Carl was accidentally turned evil by Doctor Doofenshmirtz's Ultimate Evil-inator. Carl used his status within OWCA to launch a full-scale takeover on the Tri-State Area. However, this was hindered as Perry locked the control panel and only his paw print could unlock it. Carl thus went on a hunt for Agent P and locates him in Africa. However, Agent P engages into battle with Carl aided by the wildlife against Carl's robot duplicates. Eventually, Major Monogram and Doofenshmirtz arrive and use Doofensh's -inator to turn Carl back to his normal self. Carl then returns home with Monogram and Doof, but not before being promoted to the "title" of "paid intern."
Trivia
His full name was revealed to be Carl Karl in the credits of "Ain't No Kiddie Ride". Prior to that, he was listed as "Karl" in the credits for most of his appearances, and his name was shown on-screen as "Carl" in "Swiss Family Phineas" (see logo in picture above). Carl Karl is also used in the O.W.C.A training video commercials for the Phineas and Ferb: Across the 2nd Dimension video game adaptation.
He drives an undercover ice cream truck.
Carl's age is not certain, but he is most likely a sophomore going to be a junior next school year, as he said he "based his sophomore thesis on quakes and seismic events".
He knows how to cook spaghetti, but his forgetfulness prevents him from cooking it well.
Carl knows how to work a camera, clear a paper jam, format, spell check and text edit.
Carl has his own website.
He likes to dance to the Dr. Coconut song, as well as dress as the character when he dances.
As he was born without nostrils; therefore, he does not have a sense of smell, However, he said Major Monogram smelled like garlic in "Brain Drain". He also said a letter-stamp smelled good.
He can speak French.
Carl is called Kees in Dutch. While the Dutch name Karel is closer to the original, it would be two syllables. However, in the Czech Republic, Carl is called Karel.
Carl is afraid of the smell of garlic, even though he doesn't have nostrils.
His glasses are made of aluminum.
Carl is afraid of spiders, snails and rats.
He is an attendant of squirrel conventions.
His voice gets squeaky when he's lying/nervous.
Despite having a nasally voice, Carl is actually a decent singer.
He is now officially a paid intern, though the OWCA won't be paying him, it's just a title.
So far, Carl is the only one in the O.W.C.A. (other than Perry) to know of Vanessa and Monty's relationship. Apparently, Monty owes Carl because he didn't tell Major Monogram about his secret relationship with Vanessa.
He's on Major Monogram's heebie jeebie scale.
He comes from a family of unpaid interns with Carla. It's unknown if Carla is his sister or his cousin.
He has seen Phineas and Ferb twice.
He is not as strict like Major Monogram.
Gallery
References
v - e - d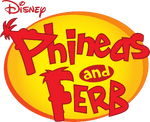 Episodes
Season One: "Rollercoaster" • "Candace Loses Her Head" • "The Fast and the Phineas" • "Lawn Gnome Beach Party of Terror" • "The Magnificent Few" • "S'Winter" • "Are You My Mummy?" • "Flop Starz" • "Raging Bully" • "Lights, Candace, Action!" • "Get That Bigfoot Outta My Face!" • "Tree to Get Ready" • "It's About Time!" • "Jerk De Soleil" • "Toy to the World" • "One Good Scare Ought to Do It!" • "A Hard Day's Knight" • "I, Brobot" • "Mom's Birthday" • "Journey to the Center of Candace" • "Run Away Runway" • "I Scream, You Scream" • "It's a Mud, Mud, Mud, Mud World" • "The Ballad of Badbeard" • "Dude, We're Getting the Band Back Together" • "Ready for the Bettys" • "The Flying Fishmonger" • "Phineas and Ferb Get Busted!" • "Greece Lightning" • "Leave the Busting to Us!" • "Crack That Whip" • "The Best Lazy Day Ever" • "Boyfriend From 27,000 B.C." • "Voyage to the Bottom of Buford" • "Put That Putter Away" • "Does This Duckbill Make Me Look Fat?" • "Traffic Cam Caper" • "Bowl-R-Ama Drama" • "The Monster of Phineas-n-Ferbenstein" • "Oil on Candace" • "Unfair Science Fair" • "Unfair Science Fair Redux (Another Story)" • "Out to Launch" • "Got Game?" • "Comet Kermillian" • "Out of Toon" • "Hail Doofania!"


Season Two: "The Lake Nose Monster" • "Interview With a Platypus" • "Tip of the Day" • "Attack of the 50 Foot Sister" • "Backyard Aquarium" • "Day of the Living Gelatin" • "Elementary My Dear Stacy" • "Don't Even Blink" • "Chez Platypus" • "Perry Lays an Egg" • "Gaming the System" • "The Chronicles of Meap" • "Thaddeus and Thor" • "De Plane! De Plane!" • "Let's Take a Quiz" • "At the Car Wash" • "Oh, There You Are, Perry" • "Swiss Family Phineas" • "Hide and Seek" • "That Sinking Feeling" • "The Baljeatles" • "Vanessassary Roughness" • "No More Bunny Business" • "Spa Day" • "Phineas and Ferb's Quantum Boogaloo" • "Phineas and Ferb Musical Cliptastic Countdown" • "Bubble Boys" • "Isabella and the Temple of Sap" • "Cheer Up Candace" • "Fireside Girl Jamboree" • "The Bully Code" • "Finding Mary McGuffin" • "Picture This" • "Nerdy Dancin'" • "What Do It Do?" • "Atlantis" • "Phineas and Ferb Christmas Vacation!" • "Just Passing Through" • "Candace's Big Day" • "I Was a Middle Aged Robot" • "Suddenly Suzy" • "Undercover Carl" • "Hip Hip Parade" • "Invasion of the Ferb Snatchers" • "Ain't No Kiddie Ride" • "Not Phineas and Ferb" • "Phineas and Ferb-Busters!" • "The Lizard Whisperer" • "Robot Rodeo" • "The Beak" • "She's the Mayor" • "The Lemonade Stand" • "Phineas and Ferb Hawaiian Vacation" • "Summer Belongs to You!" • "Nerds of a Feather" • "Wizard of Odd" • "We Call it Maze" • "Ladies and Gentlemen, Meet Max Modem!" • "The Secret of Success" • "The Doof Side of the Moon" • "Split Personality" • "Brain Drain" • "Rollercoaster: The Musical!" • "Make Play" • "Candace Gets Busted"
Season Three: "The Great Indoors" • "Canderemy" • "Run, Candace, Run" • "Last Train to Bustville" • "Phineas' Birthday Clip-O-Rama!" • "The Belly of the Beast" • "Moon Farm" • "Ask a Foolish Question" • "Misperceived Monotreme" • "Candace Disconnected" • "Magic Carpet Ride" • "Bad Hair Day" • "Meatloaf Surprise" • "Phineas and Ferb Interrupted" • "A Real Boy" • "Mommy Can You Hear Me?" • "Road Trip" • "Tour de Ferb" • "Skiddley Whiffers" • "My Fair Goalie" • "Bullseye!" • "That's the Spirit" • "The Curse of Candace" • "Escape from Phineas Tower" • "Lotsa Latkes" • "Ferb Latin" • "A Phineas and Ferb Family Christmas" • "Tri-Stone Area" • "Doof Dynasty" • "Excaliferb" • "Phineas and Ferb and the Temple of Juatchadoon" • "Monster from the Id" • "Gi-Ants" • "The Remains of the Platypus" • "Mom's in the House" • "Perry the Actorpus" • "Let's Bounce" • "Bully Bromance Break Up" • "Quietest Day Ever" • "Doonkleberry Imperative" • "Meapless in Seattle" • "Delivery of Destiny" • "Buford Confidential" • "The Mom Attractor" • "Cranius Maximus" • "Agent Doof" • "Minor Monogram" • "What a Croc!" • "Sleepwalk Surprise" • "Sci-Fi Pie Fly" • "Sipping with the Enemy" • "Tri-State Treasure: Boot of Secrets" • "Doofapus" • "Norm Unleashed" • "Where's Perry?" • "Ferb TV" • "When Worlds Collide" • "What'd I Miss?" • "Road to Danville" • "This is Your Backstory" • "Blackout!"
Season Four: "For Your Ice Only " • "Happy New Year!" • "Fly On the Wall" • "Bully Bust" • "My Sweet Ride" • "Der Kinderlumper" • "Sidetracked" • "Primal Perry" • "Mind Share" • "Backyard Hodge Podge" • "Bee Day" • "Bee Story" • "Great Balls of Water" • "Where's Pinky?" • "Phineas and Ferb Musical Cliptastic Countdown Hosted by Kelly Osbourne" • "Knot My Problem" • "Just Desserts" • "La Candace-Cabra" • "Happy Birthday, Isabella" • "Love at First Byte" • "One Good Turn" • "Mission Marvel" • "Thanks But No Thanks" • "Troy Story" • "Druselsteinoween" • "Terrifying Tri-State Trilogy of Terror" • "Face Your Fear" • "Cheers for Fears" • "Steampunx" • "Just Our Luck" • "Return Policy" • "Live and Let Drive" • "Phineas and Ferb Save Summer" • "Father's Day" • "Imperfect Storm" • "The Return of the Rogue Rabbit" • "It's No Picnic" • "The Klimpaloon Ultimatum" • "Operation Crumb Cake" • "Mandace" • "Phineas and Ferb: Star Wars" • "Lost in Danville" • "The Inator Method" • "Night of the Living Pharmacists" • "Tales from the Resistance: Back to the 2nd Dimension" • "Doof 101" • "Act Your Age" • "Last Day of Summer" • "O.W.C.A. Files"