Cast in Bronze is a musical act, notably including one of the few portable carillons, a musical instrument consisting of 23 or more tuned bells. Mounted on a frame, the instrument is played by striking with fists and feet wooden levers that are wired to each bell's clapper. Due to their enormous weight, carillons typically reside in towers or other permanent structures.[1]
This carillon has 35 bells and weighs four tons. Based in the Philadelphia area, Frank takes Cast in Bronze on the road for about 10 months every year, playing to audiences around the United States.
Originally, Cast in Bronze began as an experiment to determine if the carillon could be combined with other instruments: keyboard, bass guitar and drums. Cast in Bronze was early on contracted to play on the Fountain Stage at Walt Disney World's Epcot, where it remained for several years before moving on to other bookings and events.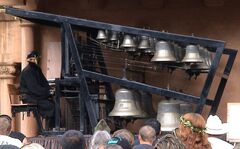 Most regular bookings of Cast in Bronze are for Renaissance festivals since the carillon experienced its zenith of popularity and historical significance during that period. Carillons date back to 15th-century Europe where they were usually owned by communities and housed in churches or other municipal buildings facing onto a village square. People gathered outdoors to be entertained by the bells. However, the musician was hidden from view within the cabin of the bell tower, so the carillonneur was never seen, thus the reason why Frank wears a black costume while performing. His face is concealed by a golden phoenix mask. All but his hands and eyes are covered as a symbolic gesture to downplay his identity and role in creating the music.
Cast in Bronze has made several recordings that include original compositions by Frank DellaPenna plus works of other composers arranged for the carillon by DellaPenna. Musical genres from classical to contemporary are spanned.
Currently, Frank is undertaking a project that will lead Cast in Bronze in a new direction. He has scored a musical titled, "The Bells" which will feature the carillon onstage.[2]
Disney Park Performances
Cast in Bronze has performed 5 seasons at EPCOT during Christmas time, showcasing its Holiday & Christmas Show.
Cast in Bronze first performed at Epcot in December 1999 until January 29, 2000.
During Cast in Bronze's early performances in EPCOT, DellaPenna was not wearing his signature costume.
References
External links
| | |
| --- | --- |
| | This page uses content from the English Wikipedia. The article or pieces of the original article was at Cast in Bronze. The list of authors can be seen in the page history. As with Disney Wiki, the text of Wikipedia is available under the GNU Free Documentation License. |
Community content is available under
CC-BY-SA
unless otherwise noted.