Not to be confused with Charles F. Muntz, the main antagonist of Up.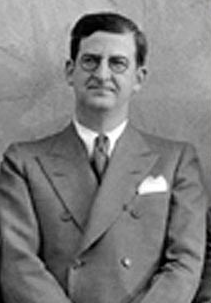 Charles B. Mintz (November 5, 1889 – December 30, 1939) was an American film producer and distributor, who assumed control over Margaret J. Winkler's Winkler Pictures after marrying her in 1924; the couple would have two children, Katherine and William. Between 1925 and 1939, he would produce over 370 cartoon shorts.
Charles Mintz was unhappy with the production costs on Walt Disney and Ub Iwerks's "Alice Comedies", and asked the two to develop a new character. The result was Oswald the Lucky Rabbit, the first animated character for Universal Pictures. In February 1928, when the character proved more successful than expected, Mintz hired all of Disney's animators except Iwerks, who refused to leave Disney, and took over the production of Oswald cartoons from his new Winkler Studio with Margaret Winkler's brother, George. After losing the Oswald contract to Walter Lantz, Mintz focused on the output of a Winkler-distributed property, the Krazy Kat series, the Winkler Studio became known as the Mintz Studio after he took over in 1929, and later Screen Gems after Columbia Pictures took over from him in 1939, a few months before he died on December 30, 1939.[1]
Mintz was nominated for two Academy Awards for Best Short Subject. His first nomination was in 1935 for "Holiday Land," and he was nominated again in 1938 for The Little Match Girl.
References
Community content is available under
CC-BY-SA
unless otherwise noted.