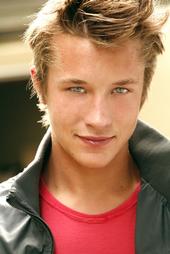 Chase Riprock
is a famous beast tamer from
Wizards of Waverly Place
. He is portrayed by Nick Roux.
Appearances
Beast Tamer
Wizard of the Year
Love Interest
Chase-Alex Relationship
Alex Russo
In the episode Beast Tamer, Chase tried to kiss Alex.
In Wizard of the Year, he came by and congratulated Alex on winning Wizard Of The Year. He gave her a hug. Later at the banquet, he sat with Alex, and when it was starting, he tried to get Alex to let him stay sitting with her by saying, "I'd better return to my table. Way Way Way Over There. Across The Room". So Alex said, "It's fine, just sit down". When she said that, he smiled. Mason Greyback, Alex's boyfriend, got mad when he saw Chase with Alex. He turned into a werewolf and attacked Chase. Alex eventually broke up the fight. Chase told her that he can't stop thinking about her, and that they would be great together. Mason said to Alex, "Well, who is it going to be Alex? Him or me?" Alex said she was choosing neither of them. Because of the fact that Mason didn't trust her when she told him she wasn't secretly dating Chase, and because of the unprovoked fight, she told Mason she thinks they should break. Then Chase asked, "What about us, Alex?" Alex told him that she thinks he's a nice guy, but she's not ready for a new relationship, as she literally broke up seconds ago. Chase's heart is broken and he leaves sadly.Chase is never seen again after this.
v - e - d
Objects
Alex's Wand • Justin's Wand • Max's Wand • Russo Portal
Community content is available under
CC-BY-SA
unless otherwise noted.