The Chicken
is a minor character from
The Fox and the Hound
.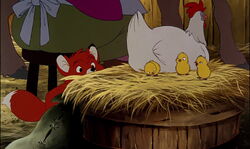 In the movie, Mrs. Tweed is milking Abigail when Tod comes in. He starts playing with Abigail's tail. Abigail starts to moo in annoyance, and Widow Tweed tells Tod to stop pestering Abigail. Widow Tweed then turns to Abigail and tells her that she's going to have to be patient with Tod because he's a member of the family now. Then Widow Tweed squirts some of Abigail's milk at Tod to drink, declaring that she'll never get her chores done. But then Tod sees some chicks, and when he goes to grab one, the Mother Hen begins chasing him around, scaring Abigail, and she accidentally knocks down Widow Tweed's bucket of milk with her back feet. Widow Tweed manages to calm Abigail down by saying "Steady old girl! Steady!". Widow Tweed then turns on Tod for scaring Abigail and making her spill the milk, but soon realizes that she can't stay angry with Tod, and shoos him out to play. The chicken isn't shown for the rest of the film.
Community content is available under
CC-BY-SA
unless otherwise noted.