Spider-Man: No Way Home Trailer Dropped - The Loop
Play Sound
This article is about the newer version of the character. For the original version of the character with the same name, see Chicken Little (1943 character).
Ace "Chicken Little" Cluck is the titular protagonist of Disney's 2005 animated feature film of the same name.
Background
Development
Chicken Little was initially written as a female character with the voice of Holly Hunter, and Hunter reportedly recorded her lines for the part. The gender flip occurred because of the notion that short boys are more likely to be bullied than short girls. Before Zach Braff was cast as Chicken Little, Michael J. Fox, Matthew Broderick, and David Spade were originally considered for the role.[1]
Personality
He is smart indeed. But Chicken Little worries about everything sometimes and try to get a lot of attention to everybody to prove that the sky is falling. Chicken Little is kind and supportive to the people he cares about.
Physical appearance
Chicken Little has white feathers and a red rooster comb. He wears a green and white striped T-shirt, green glasses, and brown shorts.
Appearances
After Chicken Little sees a hexagon-shaped object with an image of the sky fall from the sky, he believes that the sky itself is falling, and tries to warn the town, but in doing so, he throws the town into a panic that causes him to be accused of being insane. One year later, Buck then explains to him about the public getting more attention from Little as his father drops him off to school.
Unable to catch the bus, Chicken Little starts to get late for school as he uses a bottle of orange soda to get inside the school where he hides in one of the lockers to avoid getting caught by the other citizens. During Mr. Woolensworth's class, Goosey Loosey points out that he did not show up on time as he is marked "tardy" for a class as Woolensworth asks his class to translate each page into mutton by bleating like a sheep.
A misfit ever since and the target of bullies, Chicken Little and his small circle of friends have since been trying to figure a way for him to change his image; for example during a game of dodgeball, Chicken Little's classmate Abby Mallard encourages him to make closure with his father in which she explains to him to stop causing the same problem as he did to the town from last year. Later, he ends up getting bullied by Foxy Loxy and Goosey Loosey, launching him on a window dropping down to pull a lever triggering the fire alarm, shocking the coach. Later, Little is sent to Principal Fetchit's office where he talks to his father about the inappropriate things he did at school. After a talk with the principal, Buck explains to his son not to talk about the inappropriate things he did at school earlier. Later that night, Chicken Little explains to his father that he wants to be in the baseball team, but his father tells him to choose another activity such as chess. When Chicken Little and his father return home, Little sits on the rooftop where he looks at the sky where he wishes for his dream to come true.
The next day, Chicken Little sees an opportunity and tries signing up for the school baseball team, as his father did years ago, but he ends up training in order to be in a better player where Foxy Loxy constantly keeps winning many games. Later after Little trains hard, Chicken Little goes to the field to win the game, despite a puma being worried that he might lose the game again just like what Foxy did to him albeit almost getting three strikes during his game. Little ends up hitting the ball as the commentator, the crowd, his father Buck, and even Turkey Lurkey, tell him to run. Almost losing the game, the umpire explains to the crowd and announcer that he is still safe in which Chicken Little eventually ends up winning the game, beating Foxy. After winning, Chicken Little is satisfied with his victory at home as he talks to his father about his victory, making him popular again. Later that night, Little ends up getting hit by a hexagonal object where he discovers a large glow in the sky, where he grabs the hexagonal object as he decides to call his best friend Abby Mallard to warn her about the hexagonal object.
Little then explains to Abby, Runt, and Fish about the object falling from the sky. When Fish Out of Water interacts with the object, Little, Abby, and Runt leave the house where they see the green glow in the sky because of Fish interacting with the object in which the all of Oakey Oaks starts to tremble when a lot of galactic activity and hexagonal objects start to unravel things where aliens patrol Oakey Oaks where they plan to rescue Fish from the aliens in the UFO. Upon rescuing him, Little, Abby, Runt, and Fish are worried about the aliens preparing to take over Earth where they plan to escape the UFO where they plan to ask Little's father Buck Cluck. Later when two aliens try to close the hatch, they are unable to due to Chicken Little holding the button.
Eventually, Little, Abby, Runt, and Fish manage to escape albeit with the aliens attacking them. While hiding in a cornfield, Abby tells Chicken Little, Ruby, and Fish to go to the school bell at Oakey Oaks Middle School to warn all the citizens of Oakey Oaks about the alien invasion. Little then tells Abby, Runt, and Fish that he needs a bottle of soda to reach the school bell (just like what Little did to get to school when he is getting late). Reaching the bell, Little remembers trying to warn the town about the sky falling from the sky and the people accusing him of being insane, so he warns the citizens of Oakey Oaks again of the falling sky where the UFO constantly disappears when Little points out to the citizens about his experience where a big panic happens in Chicken Little's neighborhood as he tries to figure out the truth behind the falling piece. The citizens then believe that Little is making up the story, but Little explains to them about the truth in which the citizens do not see the aliens and the UFO.
The next day, Little feels sad that he is too worried to talk to his father about the falling sky last night, but eventually discovers a small alien named Kirby whom the aliens are planning to rescue last night. Later when dozens of UFOs invade Oakey Oaks as the aliens are planning to attack, Little's experience finally becomes true as the aliens send ground troops to protect Kirby from the citizens of Oakey Oaks. When Little goes after Kirby, he and Kirby end up in the movie theater where he explains to Buck and Abby about the truth he discovered. Chicken Little explains to Buck and Abby to return the alien Kirby back to his parents in order to stop the invasion.
Later after leaving the movie theater, Little explains to his father to take Kirby to the alien so that Kirby could return home. When the alien looks at Buck holding Kirby (thinking Little's father is attacking him), the alien plans to abduct him as he and Little hide to avoid getting caught as Little plans to bring Kirby back to his parents. Chicken Little and his father plan to go to the UFO where Kirby's parents would be at, albeit with the alien ground troops attacking with the help of Runt, Abby, and Fish to help Kirby reunite with his parents. Little eventually reaches to the top of the school where he tells the aliens that he is ready to bring Kirby to them to stop the attack. Later, Chicken Little and his father get abducted in the UFO where Kirby's father accuses the two of taking his son. Eventually, Kirby's father prepares to take out the two as his wife explains to him that Kirby is telling the truth as his wife tells him to put away the weapons as well as putting Chicken Little and his father down as a misunderstanding. The aliens then bring Chicken Little and his father back to Oakey Oaks as the aliens leave Oakey Oaks to get back to outer space.
After the aliens leave, Chicken Little and his father, along with the citizens of Oakey Oaks watch a movie about him where they watch a movie starring a future version of himself in they all like the movie about him.
Later during the credits, Chicken Little and the citizens of Oakey Oaks sing "Don't Go Breaking My Heart" where Little and his father dance along together.
Video games

Chicken Little is a Summon that appears in Kingdom Hearts II. He is obtained by talking to Merlin after visiting the Land of Dragons and Beast's Castle (or Olympus Coliseum if Sora skipped either of the aforementioned worlds). To summon him, Sora uses the Baseball Charm he receives from Merlin.
When Sora, Donald, and Goofy return to Hollow Bastion they reunite with old friends and Sora's magic instructor Merlin who re-teaches Sora some magic attacks, he then gives Sora a special baseball charm to help him along his journey. The charm summons Chicken Little who teams up with Sora and throws baseballs at enemies to stun them. Chicken Little also has a limit called FPS (First Person Shooter) Mode, which allows Sora to shoot firecrackers or baseballs at enemies through a scope in a first person shooter style.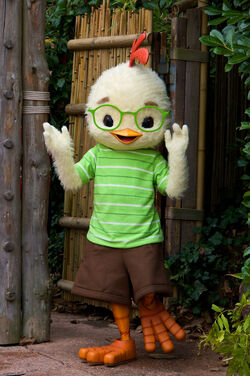 Chicken Little and Abby used to have appeared as figures in Disney Parks. Afterwards, Chicken Little has not been seen in the US parks for a few years, except for special events such as the Easter parade. Anyone's best bet to meet him is at Disneyland Paris; however, even there he is a rare character.
Gallery
Trivia
Before Zach Braff was cast as Chicken Little, Michael J. Fox, Matthew Broderick, and David Spade were originally considered for the role.[1]
Chicken Little's inclusion in Kingdom Hearts II has been seen as a way to promote his titular film in Japan, as the film was not yet released in Japan at the time of the game's Japanese release.
Chicken Little bears some resemblance to Honker Muddlefoot from the show Darkwing Duck.
In the Japanese versions of the movie and Kingdom Hearts II, Chicken Little is voiced by a woman instead of a man.
Chicken Little makes a small cameo appearance in Big Hero 6. He is seen in the sliding pictures of the San Fransokyo tower.
Chicken Little has 250,000 feathers on his body.
In a deleted scene during the "Cooking With Klaus" alternate opening during the part where the reporters tell Chicken Little to know what actor should play him in his movie, there are three actors whose names are puns on real-life actors and animals: Sean Penguin (pun on Sean Penn and Penguin), Brad Pitbull (pun on Brad Pitt and Pit Bull), and Russell Crow (same pronunciation of Russell Crowe, minus the E to make it a pun on the actor's name and Crow, as in the bird).
References
v - e - d
Characters
Main Characters: Sora • Riku • Kairi • King Mickey • Donald Duck • Goofy • Roxas • Axel/Lea • Naminé • Xion • Aqua • Terra • Ventus


Villains: Xehanort • Ansem • Xemnas • Maleficent • Pete • Vanitas • Xigbar/Braig • Xaldin • Vexen • Lexaeus • Zexion • Saïx/Isa • Demyx • Luxord • Marluxia • Larxene • Terra-Xehanort • Young Xehanort • Xehanort's Guardian
Other Characters: Jiminy Cricket • Ansem the Wise/DiZ • Yen Sid • Master Eraqus • Dilan • Even • Aeleus • Ienzo • Lingering Will • Hayner • Pence • Olette • Kairi's Grandma • Riku Replica • Jiminy's Journal • Foretellers • Master of Masters • Luxu • Ephemer • Skuld • Chirithy • Lauriam • Elrena
Original Monsters: Heartless • Nobodies • Unversed • Dream Eater
Disney Characters introduced in Kingdom Hearts: Queen Minnie • Daisy Duck • Pluto • Chip and Dale • Huey, Dewey, and Louie • Magic Brooms • Alice • White Rabbit • Doorknob • Cheshire Cat • Queen of Hearts • Card Soldiers • Tarzan • Jane Porter • Clayton • Terk • Kerchak • Kala • Sabor • Hercules • Philoctetes • Hades • Cerberus • Rock Titan • Ice Titan • Aladdin • Abu • Jasmine • Genie • Carpet • Jafar • Iago • Peddler • Cave of Wonders • Pinocchio • Geppetto • Monstro • Cleo • Ariel • Flounder • Sebastian • Ursula • King Triton• Flotsam and Jetsam • Glut • Jack Skellington • Zero • Sally • Oogie Boogie • Lock, Shock, and Barrel • Dr. Finkelstein • Mayor of Halloween Town • Peter Pan • Tinker Bell • Captain Hook • Mr. Smee • Wendy • Crocodile • Merlin • Winnie the Pooh • Tigger • Piglet • Eeyore • Rabbit • Owl • Roo • Bees • Beast • Belle • Snow White • Cinderella • Fairy Godmother • Aurora • Pongo • Perdita • Dalmatian Puppies • Simba • Mushu • Dumbo • Bambi • Chernabog
Disney Characters introduced in Kingdom Hearts II: Flora, Fauna, and Merryweather • Maleficent's Raven • Scrooge McDuck • Mulan • Li Shang • Shan Yu • Hayabusa • Yao, Ling, and Chien Po • The Emperor • Lumiere • Cogsworth • Mrs Potts • Chip • Wardrobe • Pegasus • Megara • Pain and Panic • Hydra • Horace Horsecollar • Clarabelle Cow • Clara Cluck • Jack Sparrow • Elizabeth Swann • Will Turner • Captain Barbossa • Bo'sun • Jacoby • Twigg • Cursed Crew • Prince Eric • Attina • Andrina • Santa Claus • Skeletal Reindeer • Timon • Pumbaa • Nala • Rafiki • Scar • Shenzi, Banzai, and Ed • Mufasa • Kiara • Pridelanders • Hyenas • Tron • Master Control Program • Commander Sark • Kanga • Gopher • Stitch • Chicken Little
Disney Characters introduced in Birth by Sleep: Prince Phillip • Maleficent's Goons • Doc • Grumpy • Happy • Sleepy • Bashful • Sneezy • Dopey • The Prince • Evil Queen • Magic Mirror • Prince Charming • Jaq • Lady Tremaine • Anastasia • Drizella • Lucifer • Grand Duke • Grand Councilwoman • Captain Gantu • Jumba • Experiment 221 • Lost Boys
Disney Characters introduced in Dream Drop Distance: Quasimodo • Esmeralda • Phoebus • Judge Claude Frollo • Victor, Hugo, and Laverne • Kevin Flynn • Sam Flynn • Quorra • CLU • Rinzler • Black Guards • Blue Fairy • Beagle Boys • Chernabog's Minions • Julius
Disney Characters introduced in Kingdom Hearts χ: Mad Hatter • March Hare • Razoul • Royal Guards • Maurice • Gaston
Disney Characters introduced in Kingdom Hearts Union χ: Sultan • Samson • Vanellope von Schweetz • Fix-It Felix Jr. • Sergeant Calhoun • King Candy • Sour Bill • Cy-Bugs • Hero's Duty Troops
Disney Characters introduced in Kingdom Hearts III: Zeus • Apollo • Athena • Hermes • Lava Titan • Tornado Titan • Little Chef • Woody • Buzz Lightyear • Rex • Hamm • Sarge • Green Army Men • Little Green Men • Rapunzel • Flynn Rider • Pascal • Maximus • Mother Gothel • Sulley • Mike Wazowski • Boo • Randall Boggs • Child Detection Agency • Trailer Son and Mom • Elsa • Anna • Kristoff • Olaf • Sven • Marshmallow • Hans • Mr. Gibbs • Tia Dalma • Davy Jones • Kraken • Cutler Beckett • Baymax • Hiro Hamada • Go Go Tomago • Honey Lemon • Fred • Wasabi • Lumpy • Wreck-It Ralph
Disney Characters introduced in Kingdom Hearts Dark Road: Tweedledee and Tweedledum
Disney Characters introduced in the manga: Caterpillar • Chi-Fu
Square Enix Characters: Leon • Cloud • Moogle • Others
v - e - d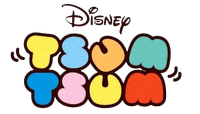 Disney
Mickey & Friends:

Mickey • Minnie • Donald • Daisy • Goofy • Pluto • Chip and Dale • Oswald • Ortensia • Duffy • ShellieMay • Gelatoni • StellaLou • CookieAnn • 'Olu Mel • Huey, Dewey, and Louie • José Carioca • Panchito Pistoles • Clarabelle Cow • Horace Horsecollar • Max Goof • Clarice • Pete • Scrooge McDuck • Ludwig Von Drake • Dr. Frankenollie • Julius

Pooh and Pals: Pooh • Tigger • Piglet • Eeyore • Rabbit • Owl • Roo • Kanga • Gopher • Christopher Robin • Lumpy
Lilo & Stitch: Stitch • Lilo • Scrump • Pleakley • Jumba • Angel • Leroy • Dr. Hämsterviel • Ugly Duckling • Sparky • 627 • Gigi • Babyfier • Yang • Slushy • Shortstuff • 625 • Amnesio • Dupe • Sample • Clip • Tank • Yin • Hunkahunka • Plasmoid
Silly Symphonies: Donald Duck • Big Bad Wolf • Practical Pig • Fiddler Pig • Fifer Pig • Ugly Duckling
Snow White and the Seven Dwarfs: Snow White • Evil Queen • Doc • Grumpy • Happy • Bashful • Sneezy • Sleepy • Dopey
Pinocchio: Pinocchio • Jiminy Cricket • Figaro • Cleo • Geppetto • Blue Fairy • Honest John and Gideon • Lampwick • Monstro
Fantasia: Mickey • Yen Sid • Chernabog • Hyacinth Hippo • Ben Ali Gator
Dumbo: Dumbo
Bambi: Bambi • Thumper • Miss Bunny • Friend Owl • The Great Prince of the Forest
The Three Caballeros: Gauchito • Burrito
The Adventures of Ichabod and Mr. Toad: Mr. Toad
Cinderella: Cinderella • Jaq and Gus • Prince Charming • Fairy Godmother • Lady Tremaine • Lucifer • Suzy • Perla • Bruno
Alice in Wonderland: Alice • Mad Hatter • March Hare • Dormouse • White Rabbit • Cheshire Cat • Tweedle Dum and Tweedle Dee • Queen of Hearts • King of Hearts • Caterpillar • Dinah • Oysters
Peter Pan: Peter Pan • Tinker Bell • Wendy Darling • John Darling • Michael Darling • Captain Hook • Mr Smee • Nana • Tick Tock • Tiger Lily
Lady and the Tramp: Lady • Tramp • Si and Am • Jock • Trusty • Peg
Sleeping Beauty: Aurora • Phillip • Maleficent • Flora • Fauna • Merryweather • Diablo • Samson • King Stefan • Goon • Owl • Rabbit
Mary Poppins: Mary Poppins • Bert • Penguin Waiter • Carousel Horse
One Hundred and One Dalmatians: Cruella De Vil • Lucky • Patch • Rolly
The Jungle Book: Mowgli • Baloo • Bagheera • Shere Khan • Kaa • King Louie • Hathi, Jr. • Raksha
Pete's Dragon: Elliott
The Fox and the Hound: Tod • Copper
The Aristocats: Marie • Berlioz • Toulouse • Duchess • Thomas O'Malley
The Rescuers: Bernard • Bianca
Oliver & Company: Oliver • Dodger • Tito • Rita • Francis • Einstein
The Little Mermaid: Ariel • Flounder • Sebastian • Eric • Ursula • Triton • Max • Scuttle
Beauty and the Beast: Belle • Beast • Lumiere • Cogsworth • Mrs. Potts • Chip • Maurice • Philippe • Gaston • LeFou
Aladdin: Aladdin • Abu • Genie • Jasmine • Jafar • Sultan • Iago • Rajah
The Nightmare Before Christmas: Jack Skellington • Sally • Zero • Lock, Shock, and Barrel • Oogie Boogie • Dr. Finkelstein • Mayor of Halloween Town • Santa Claus
The Lion King: Simba • Nala • Timon • Pumbaa • Zazu • Rafiki • Scar • Ed
Pocahontas: Pocahontas • John Smith • Meeko • Flit • Percy
Hercules: Hercules • Megara • Hades
Mulan: Mulan • Li Shang • Mushu • Fa Zhou • Khan
The Emperor's New Groove: Kuzco • Yzma • Kronk
Mickey, Donald, Goofy: The Three Musketeers: Mickey Mouse • Minnie Mouse • Donald Duck • Goofy
Chicken Little: Chicken Little
The Princess and the Frog: Tiana • Dr. Facilier
Tangled: Rapunzel • Flynn Rider • Pascal • Maximus • Mother Gothel • Queen Arianna • King Frederic • Cassandra • Fidella • Pub Thug
Wreck-It Ralph: Wreck-It Ralph • Fix-It Felix Jr.
Frozen: Anna • Elsa • Olaf • Kristoff • Sven • Hans • Snowgies • Bruni
Big Hero 6: Hiro • Baymax • Fred • Wasabi • Honey Lemon • Go Go Tomago • Tadashi Hamada • Yokai • Mochi
Zootopia: Judy Hopps • Nick Wilde • Mayor Lionheart • Flash • Yax • Gazelle • Chief Bogo • Clawhauser • Finnick • Mr. Big • Bellwether • Jerry Jumbeaux Jr.
Moana: Moana • Maui • Pua • Heihei • Tamatoa • Kakamora
Chip 'n Dale Rescue Rangers: Chip • Dale • Gadget • Monterey Jack
Phineas and Ferb: Perry
The Lion Guard: Kion • Ono • Bunga • Beshte • Fuli
DuckTales (2017): Scrooge McDuck • Huey, Dewey, and Louie • Webby Vanderquack
Kingdom Hearts: Sora • Riku • Kairi • Aqua • Xemnas • Ansem, Seeker of Darkness • Ventus • Terra • Chirithy • Lea • Young Xehanort
UniBEARsity: Mocha • Pudding • Whip • Puffy • Mont • Blanc • Souffle • Blue Rose • Charmant • Portiron • Rogue Rose • Fauve • Lucien • Horloge • La Mer • Ma Puce
Sofia the First: Sofia • Minimus • Skye
Elena of Avalor: Elena
Enchanted: Giselle
Disney Fairies: Periwinkle • Rosetta • Silvermist
The Sword in the Stone: Wart • Merlin
Oliver & Company: Oliver
Raya and the Last Dragon: Raya • Sisu
Twisted Wonderland: Grim • Riddle Rosehearts • Azul Ashengrotto • Leona Kingscholar • Kalim Al-Asim