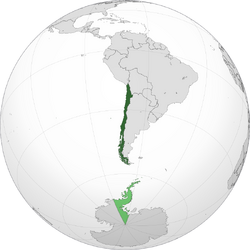 Chile, officially the Republic of Chile, is a South American country occupying a long, narrow strip of land between the Andes mountains to the east and the Pacific Ocean to the west. It borders Peru to the north, Bolivia to the northeast, Argentina to the east, and the Drake Passage in the far south. Along with Ecuador, it is one of two countries in South America that do not border Brazil. Chilean territory includes the Pacific islands of Juan Fernández, Salas y Gómez, Desventuradas and Easter Island. Chile also claims about 1,250,000 square kilometers (480,000 square miles) of Antarctica, although all claims are suspended under the Antarctic Treaty.
Chile is divided into 15 regions (incl. Metropolitan Santiago, the capital and largest city), each headed by an intendent appointed by the president. The regions are further divided into provinces, with provincial governors also appointed by the president. Finally each province is divided into communes which are administered by municipalities, each with its own mayor and council elected for four-year terms. Each region is designated by a name and a Roman numeral, assigned from north to south. The only exception is the Santiago Metropolitan Region which is designated RM (Región Metropolitana). Two new regions were created in 2006 and became operative in October 2007; Los Ríos in the south (Region XIV), and Arica y Parinacota in the north (Region XV). The numbering scheme skipped Region XIII. It is the thirty eighth-largest country in the world by land area and the 15th largest among Spanish-speaking nations. Chile is a founding member of the United Nations, the Union of South American Nations, the Organization of Ibero-American States, the World Bank Group and the World Trade Organization, and is one of the G-15 and G-77 major economies.
Chile is one of South America's most stable and prosperous nations, leading Latin American nations in human development, competitiveness, income per capita, globalization, economic freedom, and low perception of corruption. However, it has a high economic inequality, as measured by the Gini index. In May 2010 Chile became the first South American country to join the OECD. In 2006, Chile became the country with the highest nominal GDP per capita in Latin America.
Films
People born in Chile
Gallery
Community content is available under
CC-BY-SA
unless otherwise noted.