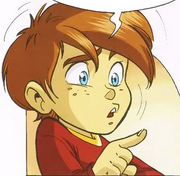 Christopher "Chris" Lair[1] (voiced by Cesar Flores[2], although he was scheduled to be voiced by Toby Linz) is a recurring character of Jetix's W.I.T.C.H.
History
He is the younger brother of Irma, aged around eight years old. Although he often annoys his sister and disobeys her, she cares about him a lot, as shown in the Season 2 episode "I is for Illusion". He has appeared in "Return of the Tracker", "The Mudslugs", "I is for Illusion", and "J is for Jewel".
Physical Appearance
He strongly resembles a male version of Irma and has the exact same hair and eye color as she does.
Episode Appearances
Season One Episode
Season Two Episode
Gallery
References