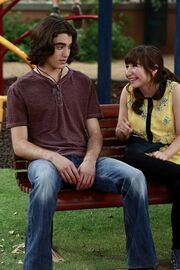 Christie is an annoying girl seen in Wingstan, with her dog. Tyler went on a double date with her so Stan could hang out with her poodle. She is portrayed by Bridget Shergalis.
Bio
Christie is the most annoying girl in school, according to Tyler. She has an irritating voice and often repeats words a bunch of times. She has a poodle, which Stan liked. She may have a crush on Tyler, although it can be said that their pairing will never happen.
Appearances
Season 1
Trivia
She was named after her grandmother, who fell off a bridge.
She has a poodle named Mandy.
Apparently, she likes coriander, as for when she says "I have sandwiches. It's got coriander!"
Quotes
"Tyler! Tyler! Tyler!"
"I was named after my grandmother, she fell off a bridge!"
"Tuesday! Tuesday! Tuesday!"