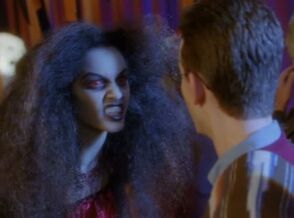 Cindy is a character from Halloweentown II: Kalabar's Revenge.
Appearances
Cindy is one of Marnie's mortal friends, who attends the Cromwell-Piper Halloween Party as a Vampire at their house. Taking note of Kal, who has just introduced himself to Marnie, Cindy sneaks up behind them and hisses in Kal's face before taking off. Then, Dylan approaches her and attempts to ask Cindy to be his date to the Halloween party being held at the high school - however Cindy points out Dylan's lack of a costume and denies him harshly.
Later, at the school's Halloween party, Cindy falls victim to the Creature Spell at midnight, where Kal changes her into a Vampire. Becoming consumed by her thirst for blood, Cindy targets Dylan and begins hissing at him i pursuit of his blood. When Marnie, Dylan, Sophie, and Aggie succeed in opening the portal between Halloweentown and the human realm permanently and defeat Kal - they swiftly reverse the Creature Spell before heading off to Halloweentown to reverse the affects of the Grey Spell. As a result, Cindy is reverted to her human form - though she believes the entire thing to have been a dream.
Community content is available under
CC-BY-SA
unless otherwise noted.