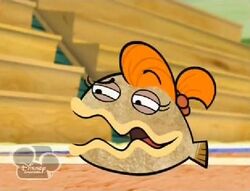 Clamanda is a character from Fish Hooks. She is a clam from Freshwater High in a cheerleading squad called the "Clamettes" and is the rival of Clamantha.
Role in the series
When Milo and Bea tried to look for a good club for Oscar, the three of them went to the gym, where they saw two clams fighting. It turned out to be Clamantha, and the clam she was fighting was Clamanda, her rival. Clamantha used to be at the St. Clamcis Clam School for Clams, along with Clamanda, and Clamantha got kicked out of the cheer squad. Clamantha wanted to beat Clamanda at the All-Species High School Cheering Squad Competition. Clamantha made her own cheer squad, consisting of Clamantha herself, Oscar, Milo, Shellsea, Finberley, Koi, Esmargot, and Bea (although she had to go to the map club, but she joined the group at the contest). At the cheer squad competition, Clamanda taunted and made fun of Clamantha's new cheerleaders, but before the two could fight again, Oscar separated the two. Clamanda rolled her eyes when Clamantha's cheer squad did their routine. After Clamanda and her cheer squad (the Clamettes) did their cheer routine, Coach Salmons revealed that the winners were the Clamettes. Clamanda was overjoyed that she won, but Clamantha's cheer squad was too busy congratulating each other. After Clamanda pointed out to them that she was the winner and not them, Coach Salmons said that the real winners were Clamantha's cheer squad, with their trophy being much bigger than the one Clamanda had. Clamanda plotted revenge on Clamantha, but the Clamettes carried her out the door.
Trivia
There is a picture of her in Clamantha's room, with darts thrown in it.
Her name is a portmanteau of "Clam" and "Amanda".
She is voiced by Busy Philipps.
Community content is available under
CC-BY-SA
unless otherwise noted.