"Always the voice of reason, Cogsworth, the prince's butler keeps a watchful eye on the castle's servants, making sure that everything is running to Beast's liking."
―Diamond Edition Website

Cogsworth is a supporting character in Disney's 1991 animated feature film, Beauty and the Beast. He is the Beast's majordomo who was turned into an enchanted pendulum clock, due to the Enchantress's curse.
Background
As the Beast's majordomo, Cogsworth is the most powerful figure in the castle, second only to the master himself. He is charged with upholding the Beast's laws, no matter how harsh they may be. He is also one of the Beast's most trusted confidants. Despite his position, Cogsworth is not the most respected member of the household and is often the butt of their jokes—mainly those of Lumiere.
Cogsworth and Lumiere are best friends and share a brotherly relationship. However, they are also rivals of sorts, mainly due to their conflicting opinions regarding the master's rules. While Cogsworth is almost excessively strict, Lumiere is rebellious and carefree. As such, the two are often at odds.
As revealed in "Human Again", Cogsworth's ultimate goal is to retire early and spend the rest of his days in a seaside shack, where he'll indulge in lounging and tea (he also snaps that he'll be far from "fools made of wax" as a jab at Lumiere, though this was likely just playful banter).
Personality
"This has gone far enough! I'm in charge here!"
―Cogsworth
Cogsworth is first introduced as pompous and controlling. He takes his position as the Beast's majordomo very seriously and seems to enjoy the power that comes with his job. He also values his own intelligence and likes to boast how knowledgeable he is when given the chance. Though a valued member of the castle, the other servants are fairly quick to knock Cogsworth's ego down a few notches. This is a source of contention for Cogsworth, who becomes incredibly irritable and no-nonsense when others refuse to listen to him—even if their reasons are sound.
Underneath the surface, Cogsworth isn't controlling for the sake of it. As the Beast's most loyal and trusted servant, Cogsworth acts as something of a peacekeeper. There was little that could tame the Beast's temper prior to Belle's arrival in the castle, and as such, Cogsworth sought to ensure that everything in the castle is to the Beast's liking no matter how cold-hearted he may come off by doing so; that way, the amount of tension caused by the Beast's temper (and the punishments that come with it) could be minimized.
Though his allegiance is partially driven by fear, Cogsworth is genuinely loyal to the Beast. He was shown to care for his master's happiness and well-being, specifically during the time of Belle's imprisonment, as he took it upon himself to boost the Beast's confidence and provide romantic advice whenever necessary. Cogsworth is also deeply loyal to his friends; despite his rivalry with Lumiere, Cogsworth never actually exploits his power to one-up or reprimand the former, even though he has the right to do so. He is also seen consoling Mrs. Potts when the last petal falls off the Enchanted Rose.
Appearances
On Christmas night, an old beggar woman came to the castle and asked for shelter. Because of her repulsive appearance, the master of the castle, the Prince, turned her away. She then revealed herself to be a beautiful Enchantress, and transformed the Prince into a hideous beast, because of his cruel ways. For further punishment, the castle servants were cursed as well, with Cogsworth specifically turning into a pendulum clock. If the Beast can't find anyone to love and love him in return by the time the last petal of an enchanted rose falls, he and the servants will be cursed forever.
Several years later, a man named Maurice lost his horse and needed a place to stay during the brutal winter night. Cogsworth opposed the idea of inviting him in because of the master's rules, but Lumiere went ahead and served Maurice anyway, with the other servants following along. Soon enough, the Beast arrives and imprisons Maurice. Cogsworth and Lumiere bicker over the event until they spot a girl, a young maiden named Belle, who is looking for her father, Maurice. She trades places with him as a prisoner, and Cogsworth joins the other servants in their attempt to help Belle and the Beast fall in love to break the spell.
As the Beast orders Belle to join him for dinner, Cogsworth attempts to insist Belle join his master for dinner, but no avail.
As time passed, Belle and the Beast have developed a close relationship. Cogsworth and the others decided to set up a ballroom dance to seal their relationship, but the Beast frees her when Maurice becomes stranded in the woods looking for Belle. Cogsworth is the first to hear of Belle's release and quickly informs the others. With no hope of becoming human, Cogsworth is fed up with the very idea of Belle being able to break the spell. Suddenly, an angry mob invades the castle to kill the Beast.
Cogsworth and the other servants battle heroically and defeat the villagers. Cogsworth even saves Lumiere's life during the battle. Meanwhile, the Beast battled Gaston, the leader of the mob, and an admirer of Belle. He fatally stabs the Beast right before falling off the castle rooftop, to his death. Cogsworth, Lumiere, and Mrs. Potts head to the Beast's side. He dies and the three lose all hope, but Belle confesses her love before the last petal falls. As Beast transforms into the Prince once more, Cogsworth and the other servants regain their human forms as well. During the final scene, he offers to bury the hatchet with Lumiere, only to start arguing with him about who foretold the fact that Belle would break to spell first, but eventually, they break off to watch Belle dance with the Prince.
Cogsworth is witnessing the Beast and Belle's relationship together and see they are becoming closer and closer as the day goes by. Belle walks through and seems excited. Cogsworth and the servants have a bad feeling Belle is thinking of Christmas and unfortunately for them, they are right.
Cogsworth and the others try their best to change the subject to no avail. Lumiere and the others decide to go with it, but Cogsworth does not. While Lumiere, Belle, and the rest of the castle wish to do a Christmas celebration without the Beast, Cogsworth out of fear wishes not to join the rest of the group in order to keep the Beast on his good side. He eventually chooses to join them in celebrating Christmas, mainly because of the food that will be served but warns them to keep quiet so that the Beast won't find out.
In the end, the Beast finally realizes Christmas is a time to spend with the ones he cares about, and Cogsworth is very happy for him. Later, when Maestro Forte has gone and his music threatens to tear the castle apart, Cogsworth and Lumiere have to keep the Enchanted Rose from falling off.
In the first segment The Perfect Word, Cogsworth participates in a dinner organized for Belle and the Beast which goes horribly. After telling the Beast that Belle will apologize after he did first, Cogsworth is thrown out the room alongside Lumiere. Later that evening, he unknowingly exposes everyone that the Beast's apology letter was forged (by Webster, Le Plume, and Crane) which results in the three get banished. After the three returns, he helps them relax from the cold alongside Belle and the rest of the servant. Everything turns out well when the Beast apologizes to everyone after overhearing that Belle always believes in his kindness.
In Fifi's Folly which sets on the anniversary of Lumiere's first date with Fifi, Lumiere grows so nervous to the point that he cleans himself excessively and turns to Belle for advice, by walking with her in the garden and reciting what he plans to say to Fifi to her. Fifi overhears this and believes that Lumière and Belle are having an affair behind her back. To get back at Lumiere, Fifi attempts to seduce Cogsworth, who is apparently not interested. Cogsworth later along with Mrs. Potts and friends rescue Lumiere and Fifi from falling into the ravine.
In Mrs. Pott's Tea Party, Cogsworth competes with Lumiere for a surprise party to cheer up Mrs. Potts. They have very different opinions in both cakes and flowers (the latter which forces both to hide them in the Beast's room) and the result is a disaster. Fortunately, both see the error of their ways and combine their effort together and organize a splendid party that cheers Mrs. Potts up.
In Broken Wing, Cogsworth feels he is losing control over his staff after he was unable to order the sewing box to repair the Beast's cape along with the kitchen wares (including Fifi and Lumiere) are not listening to him and demands their respect with harsh treatment. In the meantime, Belle convinces the Beast to free the recently-captured bird, and he releases it once its wing is cured, but the bird, still too weak, begins to fall, and the Beast rushes to rescue it. In the process, Cogsworth falls from the West Wing balcony and into the garden, but is unhurt thanks to Lumiere and friends, and learns that you cannot demand respect, but you can earn it by giving it.
Cogsworth also made numerous cameo appearances in the 2001-03 animated series, House of Mouse, all in his cursed form.
In "The Stolen Cartoons", after hearing a joke, Lumiere gave Cogsworth a rough pat on the back while laughing, resulting in Cogsworth's head being dumped in his soup.
In "Thanks to Minnie", he, Lumiere, and Mrs. Potts watched Minnie run off in tears, leaving them wondering what happened. In the end, due to gossip, Lumiere and Cogsworth were convinced they were upset with each other, resulting in a scuffle.
In "Mickey and Minnie's Big Vacation", Cogsworth was notably seen during the invasion of the Pink Elephants.
In "Donald and the Aracuan Bird", Cogsworth jokes with Lumiere that he loves a good "watchdog cartoon" upon watching "Pluto vs. the Watchdog". Later, he is among the guests darted with a tranquilizer dart by Donald Duck during the Aracuan Bird's performance.
In "Ask Von Drake", Cogsworth was seated by Lumiere during the headcount of all the Disney character guests.
Cogsworth also makes a few cameos in Mickey's Magical Christmas: Snowed in at the House of Mouse.
Other appearances
Cogsworth makes a cameo appearance in the Timon & Pumbaa episode "Serengeti Western". He complains that he shouldn't have left the castle.
An emoticon version of Cogsworth appears in the Beauty and the Beast entry of the As Told by Emoji short series.
Live-action appearances
Cogsworth appears in the 2017 live-action remake, both voiced and portrayed by Ian McKellen. In this adaptation, Cogsworth's first name is revealed to be Henry. He is also revealed to have a wife, Clothide Cogsworth. At the end of the film, he is reunited with Clothilde (much to his dismay), who, along with the other villagers, had lost her memory of him and the other servants in the Beast's castle. This incarnation of Cogsworth is older than the original.
Cogsworth is one of the residents of the castle who served as the majordomo and lived with the prince who was selfish and unkind. Later, as the prince is transformed into a hideous beast as punishment, Cogsworth and all the other residents of the castle are transformed into objects as the spell is cast all around the castle.
As Maurice and Philippe arrive at the Beast's Castle, Cogsworth appears in the form of a clock alongside Lumiere who appears in the form of a candelabra. He later appears again watching over Belle alongside Lumiere who also comments about Belle's entrance. Lumiere also arrives to the rescue just as he introduces himself to Belle while Cogsworth approaches him during his conversation with Belle. While exploring outside, Lumiere talks Belle that the castle is her new home and she can explore anywhere except for the west wing just as Cogsworth tells her about the west wing having storage.
Cogsworth and the other objects tell the Beast to talk to Belle kindly to which Belle refuses to accept the Beast's offer because he locked her in the tower just as the Beast angrily leaves. Cogsworth later offers Maestro Cadenza to play the music quieter, only for the dinner in a musical manner to be played in an upbeat tune during the musical number "Be Our Guest". However, Cogsworth joins in the fun during the dinner sequence. Cogsworth and Lumiere later notice Belle leaving the castle in terror after the Beast angrily growls at her.
He and the other objects participate during the musical number "Days in the Sun" and after the sequence, it is found out that after the last petal falls, the Prince will remain a Beast forever and all the castle servants will become inanimate objects. Cogsworth later participates during "Something There" as Belle and the Beast start a romantic relationship.
Back at the Beast's Castle, Cogsworth and the other castle servants prepare a formal suit for the Beast just as the Beast and Belle start a romantic relationship. He, Lumiere, and Cadenza gaze upon Belle and the Beast dancing together during the musical number "Beauty and the Beast". As Belle leaves the castle to find her father, Cogsworth, Lumiere, Mrs. Potts, and Plumette are worried about Belle planning to find her father just as they all leave sadly, as the Beast sings the musical number "Evermore".
As Gaston sends an angry mob to kill the Beast, Cogsworth and the other residents notice this as the castle residents form a barricade to block the entrance. Cogsworth joins the battle and fights against Gaston and his villagers. After the battle ends, the last petal falls and Cogsworth is transformed into his inanimate form as the castle residents become inanimate objects.
When Agathe uses her magic to restore the Enchanted Rose, Cogsworth is transformed back into his human form, along with the other castle servants. Cogsworth and the other castle servants dance together in the ballroom during the reprise of the musical number "Beauty and the Beast".
Video games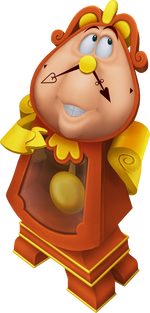 Cogsworth makes an appearance in the games, but due to his homeworld's fall into darkness by the time of Kingdom Hearts, he does not appear in the first game until the world is restored by the time of Kingdom Hearts II and Kingdom Hearts 358/2 Days.
His role in 358/2 Days is minor, but by Kingdom Hearts II, Cogsworth is more involved in the storyline. By this time, Cogsworth along with the rest of the servants are imprisoned in the castle dungeon by the Beast (who was under influence of Xaldin at the time) out of fear that he could hurt them. Upon his freedom by Sora, Cogsworth tells him about the Beast's curse and eventually assists them in bringing the Beast back to his senses when the latter becomes berserk by Xaldin's influence. After Xaldin is defeated, peace is restored in the castle. It is assumed that by the end of the game, Cogsworth regains his human form, as the Beast is seen to have turned back into a human during the credits.
Other games
In Belle's world in Disney Princess: My Fairytale Adventure, Cogsworth makes a non-speaking appearance alongside Lumiere throughout the player's adventure.
Cogsworth also appears as a costume available for roaming townspeople in Disney Infinity 2.0, where he plays a significant role in the Interior Toy Box, giving missions and information.
In the stage version, Cogsworth's role was originated by the late Heath Lambert, with the final performances being played by Jonathan Freeman.
Though following the same general story as the film, one of the additions made to the music would be a more elaborately detailed version of the spell with the object transformation being mostly gradual, as to make sense out of having human-sized versions of the enchanted objects. Over the course of the show, Cogsworth is starting to shift further into becoming more of a clock, developing a turnkey, and driving further desires for the spell to be broken. This shift was foreshadowed in an earlier scene, where Lumiere, in a perturbed tone, expressed his notice of Cogsworth becoming increasingly stiff and tense, in a physical sense, just as the enchanted rose has shown signs of wilting.
A relationship with the Wardrobe would also be added, as in the earlier Disney On Ice adaptation, with Cogsworth having been an admirer of her opera performances.
Cogsworth makes a few appearances in several locations in the Disney theme parks around the world, exclusively for entertainment purposes.
In the Fantasyland Theatre telling of the Beauty and the Beast story, Cogsworth is theatrically represented by one of the hosts.
He is generally unavailable for meet-and-greet sessions but has made exclusive appearances during private events at the Be Our Guest Restaurant, after showings at the Beauty and the Beast stage show at Disney's Hollywood Studios.
Cogsworth has his own topiary in Epcot during the Flower and Garden Festival in Spring.
He also appears in Beauty and the Beast Live on Stage, where he plays a role similar to the film, being very upset over having someone in the castle, though he nearly had a change of heart when realizing the girl, Belle, has the ability to break the spell.
Cogsworth makes a brief appearance in the Beauty and the Beast segment of Once Upon a Time at Tokyo Disneyland.
At the Tokyo Disneyland Hotel, Cogsworth's likeness is prominently featured on the wallpaper and portraits in the Beauty and the Beast room.
In Shanghai, Cogsworth appears as part of Belle and Beast's display in Voyage to the Crystal Grotto, as well as Belle's wall carving inside of Enchanted Storybook Castle. In Lumiere's Kitchen at the Shanghai Disney Hotel, a portrait of Cogsworth and Lumiere is featured, which transitions to portray the duo in both their human and cursed forms.
An animatronic Cogsworth also appears in the show Disney Dreams, aboard the Disney Wonder.
Gallery
Trivia
The costume that Cogsworth dons during the battle to defend the castle is an obvious reference to Napoleon Bonaparte, a famous French general.
The Disney novel, Lost in a Book, expands on his military history, as Cogsworth states that he participated in the American battle of Yorktown (1781) against the British 'redcoats,' as well the Battle of Quebec (pg 104). He additionally lists fights during the Seven Years War and battles against Prussia.
John Cleese was originally intended to voice Cogsworth before that role went to David Ogden Stiers.
An inanimate clock resembling Cogsworth can be seen on a table alongside a candelabra resembling Lumiere in the ABC series Once Upon a Time episode "Skin Deep".
Cogsworth's line, "Flowers, chocolates, promises you don't intend to keep," was improvised by David Ogden Stiers.
External links
v - e - d
Characters
Main Characters: Sora • Riku • Kairi • King Mickey • Donald Duck • Goofy • Roxas • Axel/Lea • Naminé • Xion • Aqua • Terra • Ventus


Villains: Xehanort • Ansem • Xemnas • Maleficent • Pete • Vanitas • Xigbar/Braig • Xaldin • Vexen • Lexaeus • Zexion • Saïx/Isa • Demyx • Luxord • Marluxia • Larxene • Terra-Xehanort • Young Xehanort • Xehanort's Guardian
Other Characters: Jiminy Cricket • Ansem the Wise/DiZ • Yen Sid • Master Eraqus • Dilan • Even • Aeleus • Ienzo • Lingering Will • Hayner • Pence • Olette • Kairi's Grandma • Riku Replica • Jiminy's Journal • Foretellers • Master of Masters • Luxu • Ephemer • Skuld • Chirithy • Lauriam • Elrena
Original Monsters: Heartless • Nobodies • Unversed • Dream Eater
Disney Characters introduced in Kingdom Hearts: Queen Minnie • Daisy Duck • Pluto • Chip and Dale • Huey, Dewey, and Louie • Magic Brooms • Alice • White Rabbit • Doorknob • Cheshire Cat • Queen of Hearts • Card Soldiers • Tarzan • Jane Porter • Clayton • Terk • Kerchak • Kala • Sabor • Hercules • Philoctetes • Hades • Cerberus • Rock Titan • Ice Titan • Aladdin • Abu • Jasmine • Genie • Carpet • Jafar • Iago • Peddler • Cave of Wonders • Pinocchio • Geppetto • Monstro • Cleo • Ariel • Flounder • Sebastian • Ursula • King Triton• Flotsam and Jetsam • Glut • Jack Skellington • Zero • Sally • Oogie Boogie • Lock, Shock, and Barrel • Dr. Finkelstein • Mayor of Halloween Town • Peter Pan • Tinker Bell • Captain Hook • Mr. Smee • Wendy • Crocodile • Merlin • Winnie the Pooh • Tigger • Piglet • Eeyore • Rabbit • Owl • Roo • Bees • Beast • Belle • Snow White • Cinderella • Fairy Godmother • Aurora • Pongo • Perdita • Dalmatian Puppies • Simba • Mushu • Dumbo • Bambi • Chernabog
Disney Characters introduced in Kingdom Hearts II: Flora, Fauna, and Merryweather • Maleficent's Raven • Scrooge McDuck • Mulan • Li Shang • Shan Yu • Hayabusa • Yao, Ling, and Chien Po • The Emperor • Lumiere • Cogsworth • Mrs Potts • Chip • Wardrobe • Pegasus • Megara • Pain and Panic • Hydra • Horace Horsecollar • Clarabelle Cow • Clara Cluck • Jack Sparrow • Elizabeth Swann • Will Turner • Captain Barbossa • Bo'sun • Jacoby • Twigg • Cursed Crew • Prince Eric • Attina • Andrina • Santa Claus • Skeletal Reindeer • Timon • Pumbaa • Nala • Rafiki • Scar • Shenzi, Banzai, and Ed • Mufasa • Kiara • Pridelanders • Hyenas • Tron • Master Control Program • Commander Sark • Kanga • Gopher • Stitch • Chicken Little
Disney Characters introduced in Birth by Sleep: Prince Phillip • Maleficent's Goons • Doc • Grumpy • Happy • Sleepy • Bashful • Sneezy • Dopey • The Prince • Evil Queen • Magic Mirror • Prince Charming • Jaq • Lady Tremaine • Anastasia • Drizella • Lucifer • Grand Duke • Grand Councilwoman • Captain Gantu • Jumba • Experiment 221 • Lost Boys
Disney Characters introduced in Dream Drop Distance: Quasimodo • Esmeralda • Phoebus • Judge Claude Frollo • Victor, Hugo, and Laverne • Kevin Flynn • Sam Flynn • Quorra • CLU • Rinzler • Black Guards • Blue Fairy • Beagle Boys • Chernabog's Minions • Julius
Disney Characters introduced in Kingdom Hearts χ: Mad Hatter • March Hare • Razoul • Royal Guards • Maurice • Gaston
Disney Characters introduced in Kingdom Hearts Union χ: Sultan • Samson • Vanellope von Schweetz • Fix-It Felix Jr. • Sergeant Calhoun • King Candy • Sour Bill • Cy-Bugs • Hero's Duty Troops
Disney Characters introduced in Kingdom Hearts III: Zeus • Apollo • Athena • Hermes • Lava Titan • Tornado Titan • Little Chef • Woody • Buzz Lightyear • Rex • Hamm • Sarge • Green Army Men • Little Green Men • Rapunzel • Flynn Rider • Pascal • Maximus • Mother Gothel • Sulley • Mike Wazowski • Boo • Randall Boggs • Child Detection Agency • Trailer Son and Mom • Elsa • Anna • Kristoff • Olaf • Sven • Marshmallow • Hans • Mr. Gibbs • Tia Dalma • Davy Jones • Kraken • Cutler Beckett • Baymax • Hiro Hamada • Go Go Tomago • Honey Lemon • Fred • Wasabi • Lumpy • Wreck-It Ralph
Disney Characters introduced in Kingdom Hearts Dark Road: Tweedledee and Tweedledum
Disney Characters introduced in the manga: Caterpillar • Chi-Fu
Square Enix Characters: Leon • Cloud • Moogle • Others
v - e - d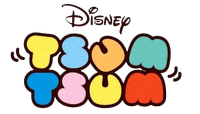 Disney
Mickey & Friends: Mickey • Minnie • Donald • Daisy • Goofy • Pluto • Chip and Dale • Oswald • Ortensia • Duffy • ShellieMay • Gelatoni • StellaLou • CookieAnn • 'Olu Mel • Huey, Dewey, and Louie • José Carioca • Panchito Pistoles • Clarabelle Cow • Horace Horsecollar • Max Goof • Clarice • Pete • Scrooge McDuck • Ludwig Von Drake • Dr. Frankenollie • Julius

Pooh and Pals: Pooh • Tigger • Piglet • Eeyore • Rabbit • Owl • Roo • Kanga • Gopher • Christopher Robin • Lumpy
Lilo & Stitch: Stitch • Lilo • Scrump • Pleakley • Jumba • Angel • Leroy • Dr. Hämsterviel • Ugly Duckling • Sparky • 627 • Gigi • Babyfier • Yang • Slushy • Shortstuff • 625 • Amnesio • Dupe • Sample • Clip • Tank • Yin • Hunkahunka • Plasmoid
Silly Symphonies: Donald Duck • Big Bad Wolf • Practical Pig • Fiddler Pig • Fifer Pig • Ugly Duckling
Snow White and the Seven Dwarfs: Snow White • Evil Queen • Doc • Grumpy • Happy • Bashful • Sneezy • Sleepy • Dopey
Pinocchio: Pinocchio • Jiminy Cricket • Figaro • Cleo • Geppetto • Blue Fairy • Honest John and Gideon • Lampwick • Monstro
Fantasia: Mickey • Yen Sid • Chernabog • Hyacinth Hippo • Ben Ali Gator
Dumbo: Dumbo
Bambi: Bambi • Thumper • Miss Bunny • Friend Owl • The Great Prince of the Forest
The Three Caballeros: Gauchito • Burrito
The Adventures of Ichabod and Mr. Toad: Mr. Toad
Cinderella: Cinderella • Jaq and Gus • Prince Charming • Fairy Godmother • Lady Tremaine • Lucifer • Suzy • Perla • Bruno
Alice in Wonderland: Alice • Mad Hatter • March Hare • Dormouse • White Rabbit • Cheshire Cat • Tweedle Dum and Tweedle Dee • Queen of Hearts • King of Hearts • Caterpillar • Dinah • Oysters
Peter Pan: Peter Pan • Tinker Bell • Wendy Darling • John Darling • Michael Darling • Captain Hook • Mr Smee • Nana • Tick Tock • Tiger Lily
Lady and the Tramp: Lady • Tramp • Si and Am • Jock • Trusty • Peg
Sleeping Beauty: Aurora • Phillip • Maleficent • Flora • Fauna • Merryweather • Diablo • Samson • King Stefan • Goon • Owl • Rabbit
Mary Poppins: Mary Poppins • Bert • Penguin Waiter • Carousel Horse
One Hundred and One Dalmatians: Cruella De Vil • Lucky • Patch • Rolly
The Jungle Book: Mowgli • Baloo • Bagheera • Shere Khan • Kaa • King Louie • Hathi, Jr. • Raksha
Pete's Dragon: Elliott
The Fox and the Hound: Tod • Copper
The Aristocats: Marie • Berlioz • Toulouse • Duchess • Thomas O'Malley
The Rescuers: Bernard • Bianca
Oliver & Company: Oliver • Dodger • Tito • Rita • Francis • Einstein
The Little Mermaid: Ariel • Flounder • Sebastian • Eric • Ursula • Triton • Max • Scuttle
Beauty and the Beast: Belle • Beast • Lumiere • Cogsworth • Mrs. Potts • Chip • Maurice • Philippe • Gaston • LeFou
Aladdin: Aladdin • Abu • Genie • Jasmine • Jafar • Sultan • Iago • Rajah
The Nightmare Before Christmas: Jack Skellington • Sally • Zero • Lock, Shock, and Barrel • Oogie Boogie • Dr. Finkelstein • Mayor of Halloween Town • Santa Claus
The Lion King: Simba • Nala • Timon • Pumbaa • Zazu • Rafiki • Scar • Ed
Pocahontas: Pocahontas • John Smith • Meeko • Flit • Percy
Hercules: Hercules • Megara • Hades
Mulan: Mulan • Li Shang • Mushu • Fa Zhou • Khan
The Emperor's New Groove: Kuzco • Yzma • Kronk
Mickey, Donald, Goofy: The Three Musketeers: Mickey Mouse • Minnie Mouse • Donald Duck • Goofy
Chicken Little: Chicken Little
The Princess and the Frog: Dr. Facilier
Tangled: Rapunzel • Flynn Rider • Pascal • Maximus • Mother Gothel • Queen Arianna • King Frederic • Cassandra • Fidella • Pub Thug
Wreck-It Ralph: Wreck-It Ralph • Fix-It Felix Jr.
Frozen: Anna • Elsa • Olaf • Kristoff • Sven • Hans • Snowgies • Bruni
Big Hero 6: Hiro • Baymax • Fred • Wasabi • Honey Lemon • Go Go Tomago • Tadashi Hamada • Yokai • Mochi
Zootopia: Judy Hopps • Nick Wilde • Mayor Lionheart • Flash • Yax • Gazelle • Chief Bogo • Clawhauser • Finnick • Mr. Big • Bellwether • Jerry Jumbeaux Jr.
Moana: Moana • Maui • Pua • Heihei • Tamatoa • Kakamora
Chip 'n Dale Rescue Rangers: Chip • Dale • Gadget • Monterey Jack
Phineas and Ferb: Perry
The Lion Guard: Kion • Ono • Bunga • Beshte • Fuli
DuckTales (2017): Scrooge McDuck • Huey, Dewey, and Louie • Webby Vanderquack
Kingdom Hearts: Sora • Riku • Kairi • Aqua • Xemnas • Ansem, Seeker of Darkness • Ventus • Terra • Chirithy • Lea • Young Xehanort
UniBEARsity: Mocha • Pudding • Whip • Puffy • Mont • Blanc • Souffle • Blue Rose • Charmant • Portiron • Rogue Rose • Fauve • Lucien • Horloge • La Mer • Ma Puce
Sofia the First: Sofia • Minimus • Skye
Elena of Avalor: Elena
Enchanted: Giselle
Disney Fairies: Periwinkle • Rosetta • Silvermist
The Sword in the Stone: Wart • Merlin
Community content is available under
CC-BY-SA
unless otherwise noted.