Commander Peepers' Theme
is the leitmotif for Commander Peepers, usually heard in episodes centered on him. It is mostly instrumental save for a musical statement of Peepers' name.
Lyrics
Commander Pee-peeerrrrrrrs!
Continuity
This theme makes appearances in:
Allusions
◾Andy Bean admitted this is actually an adaptation of the Mexican folk song, "La Cucaracha".
Songwriter
ASCAP Work #886440611
v - e - d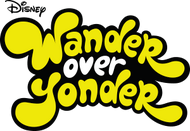 Organizations/Groups
Lord Hater's Army • Insurgent Generals • Wander and Sylvia • Bounty Hunters • Lord Dominator's Army • Galactic Villain Leaderboard
Locations
Lord Hater's Spaceship • Binglebopolopolis • Doomstone • Baaaaa-halla • Phunulon • Ballzeria • Buster • Doom Arena • Planet Ziziks • Flendar • Lord Dominatior's Spaceship • Arachnomorph Homeworld