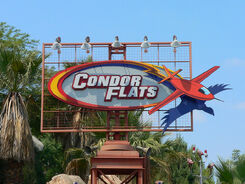 Condor Flats was a themed area at Disney California Adventure. Originally a sub-area of opening day's Golden State district, it was a desert airfield and testing facility celebrating California's aeronautic history and is the home of Soarin' Over California. In 2015, it underwent a massive refurbishment to become the Grizzly Peak Airfield, a new subarea of Grizzly Peak
Backstory
"Condor Flats was once a Mecca for pilots and aeronautical innovators. The area brought the California aerospace industry from the beginning of the Age of Aviation to the beginning of the Space Age. Rumor has it the Lockheed Company built some of its top-secret fighters here before moving to Skunkworks and Jack Northrop did the prototype testing of the Flying Wing here.
From the mid-40s to the late 60s the area became the hub of rocket research and jet testing. As the aviation industry moved into more sophisticated jet, rocket and radar research, it moved into more sophisticated headquarters, but the old hanger remained. Slowly, pilots and aviation enthusiasts began to move back to this Mecca of flying. One of the retired experimental pilots from the Flight Test Center's heyday returned and set up Condor Flats Scenic Air Tours in the old motor pool.
And then a group of younger aviation enthusiasts found out that the old test site was still around. The hangar is now home to a new generation of fliers, and their logo stands out among all the faded images of years gone by. This group of dedicated aviators developed a sort of "flying theater," a simulator in which everyone can experience the exhilaration of flying. It was designed by the best young aeronautical minds, and then installed in the revered Condor Flats hangar."
Attractions and Entertainment
Minnie's Flight Girls Charter Airline Show
Dining and Shopping
Taste Pilot's Grill (now the Smokejumpers Grill)
Condor Flats Fly 'n' Buy (now Humphrey's Service and Supplies)
External Links
Community content is available under
CC-BY-SA
unless otherwise noted.