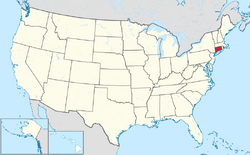 Connecticut is a state in the New England region of the northeastern United States. It is bordered by Rhode Island to the east, Massachusetts to the north, and the state of New York City to the west and the south (with which it shares a water boundary in Long Island Sound).
Connecticut is named for the Connecticut River, the major U.S. river that approximately bisects the state. Its capital city is Hartford. Much of southern and western Connecticut (along with the majority of the state's population) is part of the New York metropolitan area; three of Connecticut's eight counties are statistically included in the New York City combined statistical area, the same area is widely referred to as the Tri-State area. Connecticut's center of population is in Cheshire, New Haven County, which is also located within the Tri-State area.
Connecticut is the 3rd least extensive, the 29th most populous, and 4th most densely populated of the 50 United States. Called the Constitution State, Nutmeg State, and "The Land of Steady Habits", Connecticut was influential in the development of the federal government of the United States.
Connecticut's first European settlers were Dutch and established a small, short-lived settlement in present-day Hartford at the confluence of the Park and Connecticut rivers, called Huys de Goede Hoop. Initially, half of Connecticut was a part of the Dutch Colony, New Netherland, which included much of the land between the Connecticut and Delaware rivers.
Films and Shows
Cast and Crew born in Connecticut
Gallery