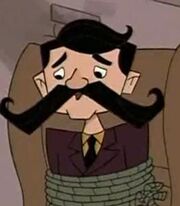 Conrad Fleem is the owner and founder of Fleemco, the company that gives replacements. He is the uncle of Todd and Riley Daring (revealed in "Irreplaceable") Which Todd figure out because he says "Don't Judge Me!" like Todd and his craze for sweets like Riley. he couldn't adopt them because he doesn't know how to raise kids, so he sent the replacements.
His brother, Todd and Rileys father never listened to anyone, which ended up resulting in his children becoming orphans. Conrad wanted his niece and Nephew to learn to know better than their father, so he created the Replacements program for them to teach them that lesson.
He also points out that he wore his disguise, because the phones the kids have are video phones. He was voiced by Jeff Bennett.