Doctor Strange in The Multiverse o Madness - The Loop
Play Sound
Courtney[3][4] is a secondary character in the American Dragon: Jake Long animated series.
Physical Appearance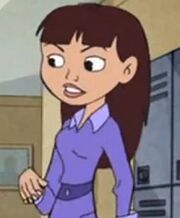 Courtney is a very tall and skinny young girl, long brown hair with fringes and she is only the tallest girl in Millard Fillmore Middle School. She stands about half a head taller than Rose. She is always seen wearing a collared soft purple dress shirt with sleeves rolled up to just under the elbow to end at the thigh, matching skirt connected with a left side in the pocket matched-up her sleeves that ends around her waist with a wide belt in dark purple. She also wears brown shoes without socks.
Personality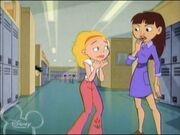 Courtney is a friendly student that seems to get along well with other girls. However, she seems to have issues with boys, especially the handsome player kind (as seen from her first reaction when Jake, disguised as Jaren MacArthur, attempts to start a conversation with a flirty remark[5]. Since she is rarely seen and has no important role in the series, not much else is known about her. She and her friend Rose were drinking hot coffee[6]. Courtney was in her cat costume invited to Jake's Halloween party[7].
Relationships
She and a new school student Rose have a close relationship and seem to get along well. She started to have trouble with the boys, and started a comment on Teen Pop Sensation Jaren MacArthur[5]. Sometimes when Rose not around with her when she's busy with The Huntsman and The Huntsclan.
Episode Appearances
Season One
Quotes
(about Jaren MacArthur) "Yeah, he is pretty cute."
"I am so bummed that you can't go to the concert tonight."
(talking to Reggie the Brownie) "Are you, like, animatronic?"
Trivia
She first appears in the premiere episode[8] and returns in four more episodes[5][6][7][9], and only has minor roles.
Courtney speaks in the premiere episode and only has two lines in the entire series[5].
When Courtney speaks, she is usually heard off-screen, except for one episode[7].
Courtney is a fan of Jaren MacArthur[5].
In an animation error, Courtney's hair is raven several times and back to brunette[7].
Courtney bears a resemblance to Charley Davidson from Biker Mice from Mars.
Courtney is taller than Nona from The Weekenders.
She has not reappeared in Season Two.
Gallery
References
]]