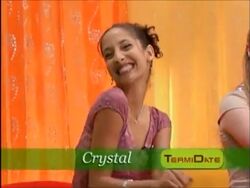 Crystal is a student at Bayside High School.
Season 1
Eddie had a huge crush on Crystal and spent much time trying to work up the courage to ask her to the school carnival. Eventually he did, but Raven had a vision Crystal would be disgusted by something on his face, which was later attributed to a zit. Eddie disguised the zit under make-up, but Crystal uncovered it. Crystal said she didn't care about the zit and only had a problem with the make-up.
Season 2
Crystal returned the following year to compete against Raven Baxter and Chelsea Daniels, along with her friend Claudia, for the heart of a boy named Chad on a dating show called TermiDate. Crystal and Claudia were eliminated in the first round.
Season 3
Raven, Chelsea, and Eddie spoke of attending Crystal's party, but never got a chance to go as Raven had to get the stain out of her dress.
Trivia
When she returns in "The Dating Shame", she and her friend, Claudia are shown being rude to Raven and Chelsea even though the first time she appeared, it's assumed that she and Raven got along. In season three, Raven was even going to attend her party.
It's unknown why she and Eddie broke up.