Wiki Targeted (Entertainment)
Play Sound
"Dancers & Ditzes" is the tenth episode of Season Four of the sitcom Austin & Ally. It aired on July 12, 2015.
Synopsis
Ally is performing at the Miami Video Music Awards, but the producers are worried about her dancing abilities. Trish convinces the producers to give her a chance to prove herself, and has until Friday to prove that she can dance well. Austin trains her to dance better, but Austin and Trish do not believe that she will be ready for the performance and cancel the audition that was made. When Ally finds out, she is crushed that her friends did not believe in her. Austin and Trish feel horrible. Later, Ally delivers an incredible performance at the show and proves to her friends that she can dance. She admits that the fact that her friends did not believe in her actually motivated her to prove them wrong. Meanwhile, Carrie has to go back to L.A., but she does not want to go. Trish and Dez get her a job at the award show to hand out trophies to the winners. They teach Carrie to not drop the trophies as she hands them out.
v - e -

d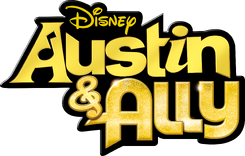 Songs
"Can't Do it Without You" • "Double Take" • "Break Down the Walls" • "A Billion Hits" • "Not a Love Song" • "It's Me, It's You" • "The Butterfly Song" • "Trash Talka" • "Better Together" • "You Don't See Me" • "Heard it on the Radio" • "Heart Beat" • "Na Na Na (The Summer Song)" • "The Way That You Do" • "Illusion" • "Don't Look Down" • "Who I Am" • "Got It 2" • "Christmas Soul" • "Can You Feel It" • "Face to Face" • "No Ordinary Day" • "You Can Come to Me" • "I Think About You" • "Finally Me" • "The Ally Way" • "Steal Your Heart" • "Timeless" • "Living in the Moment" • "I Got That Rock and Roll" • "The Me That You Don't See" • "Better Than This" • "Chasin' the Beat of My Heart" • "You Wish You Were Me" • "Redial" • "I Love Christmas" • "Austin & Ally Glee Club Mash Up" • "Who U R" • "Upside Down" • "Stuck on You" • "Me and You" • "What We're About" • "Look Out" • "Superhero" • "Parachute" • "No Place Like Home" • "Play My Song" • "Dance Like Nobody's Watching" • "Take it from the Top" • "Jump Back, Kiss Yourself" • "Perfect Christmas" • "You've Got a Friend" • "Two in a Million"