Danny
is a little black lamb in
Disney
's
So Dear to My Heart
. He appears in two forms as a live-action black lamb and an animated character in the Kincaid family scrapbooks that comprise the film's animated segments.
Background
Design
Appearances
So Dear to My Heart
Danny was a black lamb born on the Kincaid family farm that was primarily raised by Jeremiah Kincaid when his mother abandoned him. He was given the name Danny after the famous racehorse Dan Patch, who Jeremiah saw when the horse's railway tour stopped in his small town. Wanting everyone to appreciate the misfit lamb as much as he did, Jeremiah sought to enter Danny in a contest at the Pike County Fair, though his grandmother becomes critical of this ambition, seeing that Jeremiah might care more about winning then Danny's wellbeing.
Jeremiah's hopes for Danny to find success are illustrated in the film's animated sequences, which take the form of scrapbooks and postcards where a wise Owl advises the animated Danny in lessons of courage and determination.
Disney Parks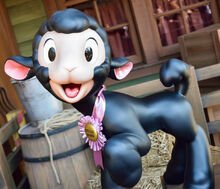 In 2015, for the Chinese Zodiac "Year of the Lamb", Danny the Lamb became the central focus of a plush merchandising line at Tokyo Disneyland similar to Duffy the Disney Bear, with collectible ribbons serving as a means of customizing Danny plushes. A statue of Danny in his animated form was installed in Westernland wearing a Prize ribbon as part of this marketing push.
Gallery
Trivia
Community content is available under
CC-BY-SA
unless otherwise noted.