"Dark of the Darker Darkness" is the second segment of the eleventh episode of The Shnookums and Meat Funny Cartoon Show.
Synopsis
Pith Possum gets knocked in the head by his Cranium Crasher Mariachi Cannon and goes through various different personalities. This proves to be a problem when Supper Squirrel raids every food business.
v - e - d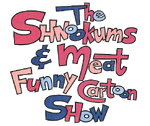 Characters
Shnookums and Meat • Toulouse • Pith Possum • Doris Deer • Obediah the Wonder Raccoon • Commissioner Stress • Lieutenant Tension • Dr. Paul Bunion • Easter Bunny Impostor • Shirley Pimple • Tex Tinstar • Smelly Deputy Chafe • Percy Lacedaisy • Floyd the Insane Rattlesnake • Wrongo • Ian and Clem • Krusty Rustknuckle
Community content is available under
CC-BY-SA
unless otherwise noted.