"Always be sure you're right, then go ahead."
―Davy Crockett

Colonel David 'Davy' Crockett was a famous, 19th century American folk hero. A frontiersman during his lifetime, he was also a soldier fighting in the Creek War under Andrew Jackson, serving as a congressman, and finally dying at the Battle of the Alamo in Texas, leading a rebel force against Mexico in the Texas Revolution.
Disney Version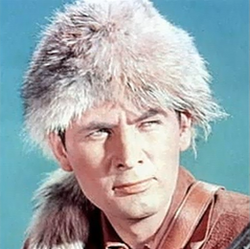 The Crockett legend was again popularized by
Walt Disney
, who produced a three-episode television series loosely based on his life, starring Fess Parker in the title role:
Davy Crockett, Indian Fighter
;
Davy Crockett Goes to Congress
; and
Davy Crockett at the Alamo
.
The shows aired on the ABC network on the Wednesdays of December 15, 1954; January 26, 1955; and February 23, 1955. Buddy Ebsen co-starred as his friend George E. Russel, who had actually only accompanied Crockett during the Creek Indian War. Davy Crockett made a return with Disney in two further adventures: Davy Crockett's Keelboat Race and Davy Crockett and the River Pirates. In these two episodes Crockett faced off against Mike Fink, another early American legend. The series spawned a revival in popularity and fascination with the legendary Crockett, especially among children. In the late 1980s, Disney would revisit Davy Crockett on television with a series of television films starring Tim Dunigan as Davy Crockett with Johnny Cash playing an older Davy in one of them.
Davy Crockett lends his name to Disney's Davy Crockett Ranch, a campground at Disneyland Paris, and Davy Crockett's Explorer Canoes, an attraction currently at Disneyland (California) and previously at other Disney parks. The character Mike Fink from the Davy Crockett series also lends his name to the now closed attraction Mike Fink Keel Boats.
He was also played by Billy Bob Thornton in the 2004 Touchstone Pictures film The Alamo.
Gallery
Community content is available under
CC-BY-SA
unless otherwise noted.