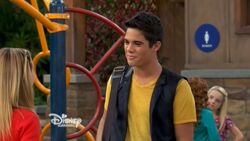 Dax is another boy who Avery falls in love with in Dog With a Blog. He's portrayed by Emery Kelly.
Character History
When Avery wanted to help Chloe to become friends with Jules, she didn't know Dax was her big brother. Avery took a cruel move by persuading Chloe and Jules to stay best friends so she can hang out with Dax.
Trivia
He owns a cookie kiosk.
He's an artist.
Dax is the fourth character that Avery dated. The first three were Dustin Pitt, Wes Manning, and Brian.

Dax is the only character that Avery is currently dating since he was mention later.