"Desert Pups" is the first segment of the fifty-third episode of Puppy Dog Pals.[1]
Plot
Bob and the Pugs take a fun road trip through the desert.
References
v - e - d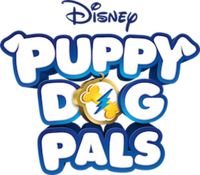 Songs
Puppy Dog Pals theme • Going on a Mission • Fire Truck Time • Waddle Waddle Waddle • Clean Up Time • This is How You Jump • Fix This Day • You're My Best Friend • Keep on Tryin' • Coolin' Out • Feels Like We're Flying • At the Pumpkin Patch • On Halloween Night • Captain Dog • Scuba Doggin' • Dig • Bury It! • Bizzy Beaver Builds a Dam • Gonna Get to the Bottom of This • Walkin' the Bob • Surfin' Puppies • Bubble Wrapped! • Tangled Up! • Looking for Bob's Bird • Andiamo (Let's Go!) • Gotta Get the Ball! • The Race is On • Let's Hit the Road • We Need to Be Quiet • Doesn't Take Much • Gotta Make the Latkes • Watch Out • You Still Look Pretty Little to Me • Ol' Snapper • Catch That Squirrel • Diggin' Again • The Hunt for Hissy • Four Leaf Clover • Dry Cleaner Puppy Party • Slow Down Grandma • If You Have a Pet • Looking for a Boomerang • Olivia! • Birthdays Are the Best • You're Dancin' • Our New Best Friend Keia • I Would Do Anything • Guess Who's Got a Brand New Doghouse? • The Fang Fairy • Snow Monkeys • You Need Some Rest • Puppies on the Moon • Super Bouncy Pups • Spy Puppies • The Alpine Puppy Yodel • We're Bringing Dinner to Bob • There's Always Room for Another Friend • It's Christmas (And We're Heading Home) • Gary the Gecko's Lemur Song • His Name is Zeus • The Fetchin' Wind is Hard to Do Blues • Three Pups in Paris • Hong Kong Pups • Dog Washing • Whodunnit?
Community content is available under
CC-BY-SA
unless otherwise noted.