This article is about the Sleeping Beauty character. For the main antagonist in Beverly Hills Chihuahua, see El Diablo.
Diablo[1] is the secondary antagonist in Disney's 1959 animated feature film, Sleeping Beauty. He is Maleficent's pet raven and accomplice.
Background
Diablo appears to have a similar role to the raven in Snow White and the Seven Dwarfs. However, he plays a larger role in the storyline and is in almost every scene in which Maleficent appears. In addition, unlike the raven in Snow White, he is completely and genuinely loyal to her and, unlike the rest of her servants, he is competent and easily succeeds in his task to find Aurora, and sometimes notices things even Maleficent fails to. He is also the only one she genuinely cares about, and she is visibly horrified when she discovers him turned to stone. In return, he apparently cares a great deal for her, specifically seen when he fell into despair alongside her after her goons were revealed to have been searching for a baby for sixteen years, as opposed to a teenager, which Aurora would have been at that point in time.
Unlike her goons, who Maleficent constantly abuses and treats as pathetic wastes, he serves as her confidante and assistant, more so than her lackey, joining her more often than not from scene to scene, and having complete knowledge of her devious plots. He's also second-in-command, having control over her goons, along with her.
He shares Maleficent's sadism. When she captures Prince Phillip in the cottage, and later when she torments him in his cell, Diablo shows just as much pleasure as Maleficent herself.
Physical appearance
In Sleeping Beauty, Diablo is a black raven with pink bags under his eyes. He has a sharp, long yellow beak and yellow claws.
Appearances
Diablo is first seen with Maleficent, crashing Aurora's christening. There, she casts a spell on her that schedules her death to come before the sun sets on her sixteenth birthday when she pricks her finger on the spindle of a spinning wheel. After the curse is set, she and Diablo depart. Oblivious to them, her rivals, Flora, Fauna, and Merryweather, change the curse so that Aurora would only fall into a deep sleep when she pricks her finger. Meanwhile, back at the Forbidden Mountain, Maleficent sends her goons on a hunt for Aurora but fail to find her after sixteen years. It is revealed that they were foolishly looking for a baby during the entire hunt. Maleficent explodes in rage and sends Diablo to find her. He begins his search in the forest where he spots magic from wands being blasted out of a chimney (and in the process gets hit with it when he takes a closer inspection). It is from Flora and Merryweather who have been hiding Aurora in a woodcutter's cottage to keep her safe from Maleficent.
Diablo, listening at the doorway, hears Flora, Fauna, and Merryweather confirm Aurora's identity, and tell her that they are returning her to King Stefan's castle that evening. Hearing this, Diablo quickly flies off and sends Maleficent the news to her great delight. He also hears that Aurora has fallen in love, and that the man she loves will be coming to the cottage that evening. This allows Maleficent and her goons to capture him, who is Prince Phillip, to prevent him from breaking the curse. They hold him hostage in Maleficent's castle but Flora, Fauna, and Merryweather break him out. Diablo, however, overhears them as Maleficent retires, and catches them escaping. He quickly rallies the goons to attack. However, they stand no chance against Flora, Fauna, and Merryweather's magic, so Diablo heads for Maleficent's quarters to inform her of what's going on. Annoyed by him, Merryweather chases after him, attempting to use her magic on him. When Diablo finally reaches Maleficent's quarters, Merryweather finally hits him with her magic causing him to turn into a stone statue as a part of Maleficent's castle. Maleficent emerges, planning to silence her goons upon hearing all the commotion, but she finds his stone body instead, gasping in shock before witnessing Prince Phillip, Flora, Fauna, and Merryweather making their escape, prompting her to take matters into her own hands.
Other appearances
Diablo made frequent cameos as one of the guests in House of Mouse. He is perched on Maleficent's shoulder in all of his appearances. In the episode, "Halloween With Hades", he doesn't seem to like Hades and even tried to bite his finger. He also appears alongside the villains in Mickey's House of Villains.
Live-action appearances
Diablo made a small appearance in the season four episode, "Heroes and Villains" where, following Belle's kidnapping, he delivers a message indicating her capture to the Dark One, Rumplestiltskin.
As another reference to the film, Maleficent can shape-shift to and from a flock of ravens.
Diablo appears in the film under the name of Diaval, and actor Sam Riley plays his human form.
Diablo is a raven and Maleficent's confidant who can under her command take on not just the form of a human, but also a variety of other creatures such as a wolf, a horse, and the dragon that Maleficent turned into in the original film. All his transformations appear very birdlike. In human form, he dresses in black and has a collection of huge visible scars all over his body.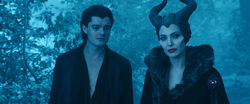 Diaval first meets Maleficent when she saves him from a farmer's net by transforming him into a man. At first, he is upset, protesting, "What have you done to my beautiful self?" Maleficent retorts that he should be thanking her. In gratitude for her kindness, he dedicates his life to serving her. She commands him to be her "wings" and spy on the kingdom. He brings news that King Stefan has had a daughter and a christening will be held the next day. Over time, he helps Maleficent to seek revenge against King Stefan for his treachery and finds where the pixies are hiding the princess. Despite her dislike for the little "beastie," she reluctantly has Diaval care for the princess since the pixies are incapable, as they struggle to adapt in their human forms.
As the years pass, Diaval develops a friendship with Aurora, and when she meets Prince Phillip, who he believes could be the key to saving her. However, all this is in vain when Prince Phillip's kiss fails to awaken her, but Maleficent's motherly kiss is true enough love to do so. When King Stefan and his men capture Maleficent, she turns Diaval into a dragon, and he fights off the guards while she battles King Stefan.
In the last scene, he witnesses Maleficent crowning Aurora the new queen of both the human and fairy kingdoms and flies happily alongside the reformed fairy, Maleficent.
Diaval overhears Prince Phillip proposing to Aurora. When he relays this to Maleficent, she is not pleased. He attends the banquet alongside Maleficent that Queen Ingrith has invited Aurora too. After Maleficent was incapacitated by a secret attack ordered by Ingrith, Diaval was stuck in his human form. Due to being able to pass off as a human, he is not amongst the Moors Folk who get taken to the church to get killed. He is able to get into the castle, and help rescue some of the ones trapped. Amidst the fighting with Queen Ingrith's Army, Maleficent transforms him into a bear, and he fights off countless soldiers as a result. In the form of a bear, Diaval frees the fairies trapped inside by destroying the door that is too heavy to be pushed while Maleficent prepares to take out Ingrith for her tyranny.
Printed media
Maleficent's Revenge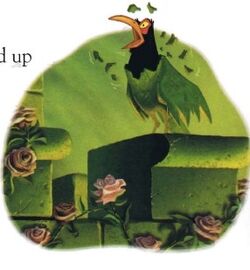 On the night of a solar eclipse, fairy magic is drained away and spells are broken, resulting in Diablo's revival from the stone curse placed on him by Merryweather. He immediately searches for the deceased Maleficent, and upon finding her staff and remains, he uses her magic to revive her from the dead, thus initiating another plot to torture Aurora and dominate the kingdom. It was unknown what happened to him after Maleficent was defeated again.
Diablo appears from "Shell Game" to "Dark Passage", acting as Maleficent's scout on the Dream. He sends The Overtakers' henchmen to attack the Keepers, making sure to always stay out of harm's way. He attacked Willa Angelo and Philby in the kitchen, getting captured. Because of the injuries he had inflicted upon him, Philby considered killing him by cooking him alive. However, he was luckily spared by Willa not wanting to stoop to the Overtakers' level, mercifully trapping him in a microwave until it had to be opened for cooking. He later catches Walt's journal on how to completely revive Chernabog, when the Keepers toss it overboard to keep Maleficent and the Queen from getting it.
When Maleficent and the Queen search for Chernabog in a maze, Diablo attacks Finn Whitman, only to be knocked aside into a wall. His defeat only serves to let Maleficent's anger mislead her into turning into a dragon to kill Finn in revenge. However, he was used as a shield, so Finn could rip out Maleficent's throat. His fate remains unknown, but he may have chosen to die from a lack of nutrition as his master had died.
Diablo is said to remain petrified in Maleficent's castle in the Isle of the Lost. After Carlos De Vil accidentally makes a tiny hole in the magical barrier of the Isle, Diablo's curse is broken, and feeling that the Dragon's Eye (Maleficent's staff) is awake, he travels to the Isle of the Lost, looking for Maleficent. He informs her about the Dragon's Eye and she sends her daughter, Mal, to recover it, but since she really doesn't believe Mal can complete the mission, Maleficent orders Diablo (without Mal's knowing) to follow her and retrieve it. She and her friends had successfully found it, but since it was cursed to make the first person who touched it fall into a 1000 years sleep, Diablo takes it out of her hand and takes it to Maleficent.
When Maleficent is unable to find Diablo, she sends another pet bird (a female crow named Opal) to search for the raven.
Video games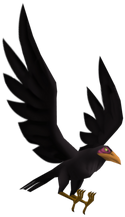 Diablo appears as a minor antagonist in the Kingdom Hearts series, mostly seen on Maleficent's shoulder on certain occasions.
Diablo is known for announcing the presence of Maleficent many times throughout the series, but enacts this more importantly within Kingdom Hearts II when he not only appears before Maleficent but helps resurrect her from her premature death by bringing her empty robe to Yen Sid's tower, from where the memories of Flora, Fauna, and Merryweather bring her back to life. Later on, Pete travels to Hollow Bastion to see if the rumors of she being killed off was true. Just then, Diablo and the revived Maleficent arrives.
In Birth by Sleep, Diablo appears briefly as he watches Prince Phillip and Aqua trying to escape the Forbidden Mountain. He is the first to notice them escaping and quickly summons the goons to attack them.
In Dream Drop Distance, Maleficent gives him Queen Minnie's crown as well as a letter to be delivered to Mickey at Yen Sid's tower to lure him back to Disney Castle.
He appears in KH and KH2's mangas.
Diablo has made a few appearances in the Disney theme parks around the world, always seen alongside Maleficent. He appeared on her staff in the Magic Kingdom parade Celebrate A Dreams Come True Parade. He would sometimes appear on her shoulder in some Disneyland Paris shows. He also appeared in a few attractions including Sleeping Beauty Castle walkthrough and Sorcerers of the Magic Kingdom. A statue of him can also be seen near Le Château de la Belle au Bois Dormant.
Gallery
Trivia
Diablo is the Spanish word for "devil" or "demon".
Diablo was not actually named in the original film.
In Irish folklore, crows are associated with the winged battle goddesses, the Morrigan. In most all other folklore, ravens are associated with death, the dead, and trickery. Thus, they can be "devilish" birds.
In Maleficent, the name Diaval is pronounced similarly to "devil".
References
↑

"Sotheby's Guide: Antiques and Their Prices Worldwide, Volume 5" published in 1989 (as "1990 EDITION") page 171 "A Walt Disney celluloid from 'Sleeping Beauty', 1959, the multi-sheet celluloid depicting Diablo the raven perched on the arm of Maleficent's throne, applied to a master watercolour background,"

↑ Mason, Heather (October 21, 2019). "Maleficent: Mistress of Evil's Sam Riley on Diaval's Love for Maleficent" (Article). Syfy Wire.
v - e - d
Characters
Main Characters: Sora • Riku • Kairi • King Mickey • Donald Duck • Goofy • Roxas • Axel/Lea • Naminé • Xion • Aqua • Terra • Ventus


Villains: Xehanort • Ansem • Xemnas • Maleficent • Pete • Vanitas • Xigbar/Braig • Xaldin • Vexen • Lexaeus • Zexion • Saïx/Isa • Demyx • Luxord • Marluxia • Larxene • Terra-Xehanort • Young Xehanort • Xehanort's Guardian
Other Characters: Jiminy Cricket • Ansem the Wise/DiZ • Yen Sid • Master Eraqus • Dilan • Even • Aeleus • Ienzo • Lingering Will • Hayner • Pence • Olette • Kairi's Grandma • Riku Replica • Jiminy's Journal • Foretellers • Master of Masters • Luxu • Ephemer • Skuld • Chirithy • Lauriam • Elrena
Original Monsters: Heartless • Nobodies • Unversed • Dream Eater
Disney Characters introduced in Kingdom Hearts: Queen Minnie • Daisy Duck • Pluto • Chip and Dale • Huey, Dewey, and Louie • Magic Brooms • Alice • White Rabbit • Doorknob • Cheshire Cat • Queen of Hearts • Card Soldiers • Tarzan • Jane Porter • Clayton • Terk • Kerchak • Kala • Sabor • Hercules • Philoctetes • Hades • Cerberus • Rock Titan • Ice Titan • Aladdin • Abu • Jasmine • Genie • Carpet • Jafar • Iago • Peddler • Cave of Wonders • Pinocchio • Geppetto • Monstro • Cleo • Ariel • Flounder • Sebastian • Ursula • King Triton• Flotsam and Jetsam • Glut • Jack Skellington • Zero • Sally • Oogie Boogie • Lock, Shock, and Barrel • Dr. Finkelstein • Mayor of Halloween Town • Peter Pan • Tinker Bell • Captain Hook • Mr. Smee • Wendy • Crocodile • Merlin • Winnie the Pooh • Tigger • Piglet • Eeyore • Rabbit • Owl • Roo • Bees • Beast • Belle • Snow White • Cinderella • Fairy Godmother • Aurora • Pongo • Perdita • Dalmatian Puppies • Simba • Mushu • Dumbo • Bambi • Chernabog
Disney Characters introduced in Kingdom Hearts II: Flora, Fauna, and Merryweather • Maleficent's Raven • Scrooge McDuck • Mulan • Li Shang • Shan Yu • Hayabusa • Yao, Ling, and Chien Po • The Emperor • Lumiere • Cogsworth • Mrs Potts • Chip • Wardrobe • Pegasus • Megara • Pain and Panic • Hydra • Horace Horsecollar • Clarabelle Cow • Clara Cluck • Jack Sparrow • Elizabeth Swann • Will Turner • Captain Barbossa • Bo'sun • Jacoby • Twigg • Cursed Crew • Prince Eric • Attina • Andrina • Santa Claus • Skeletal Reindeer • Timon • Pumbaa • Nala • Rafiki • Scar • Shenzi, Banzai, and Ed • Mufasa • Kiara • Pridelanders • Hyenas • Tron • Master Control Program • Commander Sark • Kanga • Gopher • Stitch • Chicken Little
Disney Characters introduced in Birth by Sleep: Prince Phillip • Maleficent's Goons • Doc • Grumpy • Happy • Sleepy • Bashful • Sneezy • Dopey • The Prince • Evil Queen • Magic Mirror • Prince Charming • Jaq • Lady Tremaine • Anastasia • Drizella • Lucifer • Grand Duke • Grand Councilwoman • Captain Gantu • Jumba • Experiment 221 • Lost Boys
Disney Characters introduced in Dream Drop Distance: Quasimodo • Esmeralda • Phoebus • Judge Claude Frollo • Victor, Hugo, and Laverne • Kevin Flynn • Sam Flynn • Quorra • CLU • Rinzler • Black Guards • Blue Fairy • Beagle Boys • Chernabog's Minions • Julius
Disney Characters introduced in Kingdom Hearts χ: Mad Hatter • March Hare • Razoul • Royal Guards • Maurice • Gaston
Disney Characters introduced in Kingdom Hearts Union χ: Sultan • Samson • Vanellope von Schweetz • Fix-It Felix Jr. • Sergeant Calhoun • King Candy • Sour Bill • Cy-Bugs • Hero's Duty Troops
Disney Characters introduced in Kingdom Hearts III: Zeus • Apollo • Athena • Hermes • Lava Titan • Tornado Titan • Little Chef • Woody • Buzz Lightyear • Rex • Hamm • Sarge • Green Army Men • Little Green Men • Rapunzel • Flynn Rider • Pascal • Maximus • Mother Gothel • Sulley • Mike Wazowski • Boo • Randall Boggs • Child Detection Agency • Trailer Son and Mom • Elsa • Anna • Kristoff • Olaf • Sven • Marshmallow • Hans • Mr. Gibbs • Tia Dalma • Davy Jones • Kraken • Cutler Beckett • Baymax • Hiro Hamada • Go Go Tomago • Honey Lemon • Fred • Wasabi • Lumpy • Wreck-It Ralph
Disney Characters introduced in Kingdom Hearts Dark Road: Tweedledee and Tweedledum
Disney Characters introduced in the manga: Caterpillar • Chi-Fu
Square Enix Characters: Leon • Cloud • Moogle • Others
v - e - d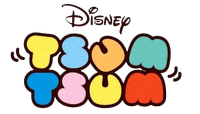 Disney
Mickey & Friends:

Mickey • Minnie • Donald • Daisy • Goofy • Pluto • Chip and Dale • Oswald • Ortensia • Duffy • ShellieMay • Gelatoni • StellaLou • CookieAnn • 'Olu Mel • Huey, Dewey, and Louie • José Carioca • Panchito Pistoles • Clarabelle Cow • Horace Horsecollar • Max Goof • Clarice • Pete • Scrooge McDuck • Ludwig Von Drake • Dr. Frankenollie • Julius

Pooh and Pals: Pooh • Tigger • Piglet • Eeyore • Rabbit • Owl • Roo • Kanga • Gopher • Christopher Robin • Lumpy
Lilo & Stitch: Stitch • Lilo • Scrump • Pleakley • Jumba • Angel • Leroy • Dr. Hämsterviel • Ugly Duckling • Sparky • 627 • Gigi • Babyfier • Yang • Slushy • Shortstuff • 625 • Amnesio • Dupe • Sample • Clip • Tank • Yin • Hunkahunka • Plasmoid
Silly Symphonies: Donald Duck • Big Bad Wolf • Practical Pig • Fiddler Pig • Fifer Pig • Ugly Duckling
Snow White and the Seven Dwarfs: Snow White • Evil Queen • Doc • Grumpy • Happy • Bashful • Sneezy • Sleepy • Dopey
Pinocchio: Pinocchio • Jiminy Cricket • Figaro • Cleo • Geppetto • Blue Fairy • Honest John and Gideon • Lampwick • Monstro
Fantasia: Mickey • Yen Sid • Chernabog • Hyacinth Hippo • Ben Ali Gator
Dumbo: Dumbo
Bambi: Bambi • Thumper • Miss Bunny • Friend Owl • The Great Prince of the Forest
The Three Caballeros: Gauchito • Burrito
The Adventures of Ichabod and Mr. Toad: Mr. Toad
Cinderella: Cinderella • Jaq and Gus • Prince Charming • Fairy Godmother • Lady Tremaine • Lucifer • Suzy • Perla • Bruno
Alice in Wonderland: Alice • Mad Hatter • March Hare • Dormouse • White Rabbit • Cheshire Cat • Tweedle Dum and Tweedle Dee • Queen of Hearts • King of Hearts • Caterpillar • Dinah • Oysters
Peter Pan: Peter Pan • Tinker Bell • Wendy Darling • John Darling • Michael Darling • Captain Hook • Mr Smee • Nana • Tick Tock • Tiger Lily
Lady and the Tramp: Lady • Tramp • Si and Am • Jock • Trusty • Peg
Sleeping Beauty: Aurora • Phillip • Maleficent • Flora • Fauna • Merryweather • Diablo • Samson • King Stefan • Goon • Owl • Rabbit
Mary Poppins: Mary Poppins • Bert • Penguin Waiter • Carousel Horse
One Hundred and One Dalmatians: Cruella De Vil • Lucky • Patch • Rolly
The Jungle Book: Mowgli • Baloo • Bagheera • Shere Khan • Kaa • King Louie • Hathi, Jr. • Raksha
Pete's Dragon: Elliott
The Fox and the Hound: Tod • Copper
The Aristocats: Marie • Berlioz • Toulouse • Duchess • Thomas O'Malley
The Rescuers: Bernard • Bianca
Oliver & Company: Oliver • Dodger • Tito • Rita • Francis • Einstein
The Little Mermaid: Ariel • Flounder • Sebastian • Eric • Ursula • Triton • Max • Scuttle
Beauty and the Beast: Belle • Beast • Lumiere • Cogsworth • Mrs. Potts • Chip • Maurice • Philippe • Gaston • LeFou
Aladdin: Aladdin • Abu • Genie • Jasmine • Jafar • Sultan • Iago • Rajah
The Nightmare Before Christmas: Jack Skellington • Sally • Zero • Lock, Shock, and Barrel • Oogie Boogie • Dr. Finkelstein • Mayor of Halloween Town • Santa Claus
The Lion King: Simba • Nala • Timon • Pumbaa • Zazu • Rafiki • Scar • Ed
Pocahontas: Pocahontas • John Smith • Meeko • Flit • Percy
Hercules: Hercules • Megara • Hades
Mulan: Mulan • Li Shang • Mushu • Fa Zhou • Khan
The Emperor's New Groove: Kuzco • Yzma • Kronk
Mickey, Donald, Goofy: The Three Musketeers: Mickey Mouse • Minnie Mouse • Donald Duck • Goofy
Chicken Little: Chicken Little
The Princess and the Frog: Tiana • Dr. Facilier
Tangled: Rapunzel • Flynn Rider • Pascal • Maximus • Mother Gothel • Queen Arianna • King Frederic • Cassandra • Fidella • Pub Thug
Wreck-It Ralph: Wreck-It Ralph • Fix-It Felix Jr.
Frozen: Anna • Elsa • Olaf • Kristoff • Sven • Hans • Snowgies • Bruni
Big Hero 6: Hiro • Baymax • Fred • Wasabi • Honey Lemon • Go Go Tomago • Tadashi Hamada • Yokai • Mochi
Zootopia: Judy Hopps • Nick Wilde • Mayor Lionheart • Flash • Yax • Gazelle • Chief Bogo • Clawhauser • Finnick • Mr. Big • Bellwether • Jerry Jumbeaux Jr.
Moana: Moana • Maui • Pua • Heihei • Tamatoa • Kakamora
Chip 'n Dale Rescue Rangers: Chip • Dale • Gadget • Monterey Jack
Phineas and Ferb: Perry
The Lion Guard: Kion • Ono • Bunga • Beshte • Fuli
DuckTales (2017): Scrooge McDuck • Huey, Dewey, and Louie • Webby Vanderquack
Kingdom Hearts: Sora • Riku • Kairi • Aqua • Xemnas • Ansem, Seeker of Darkness • Ventus • Terra • Chirithy • Lea • Young Xehanort
UniBEARsity: Mocha • Pudding • Whip • Puffy • Mont • Blanc • Souffle • Blue Rose • Charmant • Portiron • Rogue Rose • Fauve • Lucien • Horloge • La Mer • Ma Puce
Sofia the First: Sofia • Minimus • Skye
Elena of Avalor: Elena
Enchanted: Giselle
Disney Fairies: Periwinkle • Rosetta • Silvermist
The Sword in the Stone: Wart • Merlin
Oliver & Company: Oliver
Raya and the Last Dragon: Raya • Sisu
Twisted Wonderland: Grim • Riddle Rosehearts • Azul Ashengrotto • Leona Kingscholar • Kalim Al-Asim • Vil Schoenheit • Idia Shroud • Malleus Draconia • Dire Crowley • Mirror of Darkness