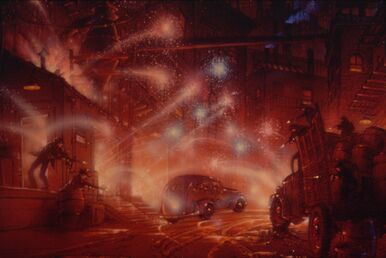 Dick Tracy's Crime-Stoppers was an attraction based on Warren Beatty's 1990 film Dick Tracy that was proposed for the Sunset Boulevard section of Disney's Hollywood Studios.
The film was expected to be a huge success by Disney Company management - the start of a new franchise - and Imagineering was tasked with bringing the detective to the park. The Dick Tracy's Crime-Stoppers press release revealed: "Guests will literally get 'into the act' in this new high-tech action-adventure featuring the very latest in Audio-Animatronics, simulation, sound and special effects," continuing "guests will join America's favorite comic-strip detective in a high-speed chase with his gangster adversaries."
Dick Tracy's Crime-Stoppers would have utilized the same Enhanced Motion Vehicle technology that is now used in the Indiana Jones Adventure and Dinosaur, this time situating itself in a huge industrial warehouse - part of a 1920's Chicago mini-area to be built around the attraction at Disney's Hollywood Studios or built as part of a proposed Hollywoodland at Disneyland.
Boarding high class 1920's cars, guests would have raced through the streets of Chicago, through buildings, over bridges and past the Chicago docks, chased by villainous gangsters. Each guest would have also had a Tommy gun that would have, through technology similar to Buzz Lightyear's Space Ranger Spin, allowed guests to interact with the noir world around them, shooting back at the baddies and bullseyeing the tops off garbage cans.
Unfortunately, the film wasn't spectacularly successful at the box office and legal issues involving the film rights prevented a sequel. The franchise was let go, along with the ride.
However, Dick Tracy and other characters from the film did temporarily appear at Disney's Hollywood Studios and Disneyland in the Dick Tracy Diamond Double Cross stage show.
Trivia
The name Dick Tracy's Crime-Stoppers was also used as a scratch and win game promotion at McDonald's restaurants.
Community content is available under
CC-BY-SA
unless otherwise noted.