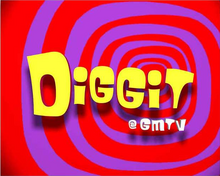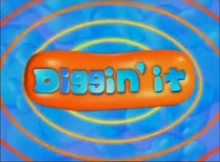 Diggit (Spelt as DiGGiT) is a British Disney-themed weekend block that aired on ITV on the GMTV breakfast stand (which at the time, was 25% owned by The Walt Disney Company) produced by Walt Disney Productions UK. It premiered on March 14, 1998, replacing two other Disney-produced GMTV blocks - Wake Up in the Wild Room and The Disney Club.
The block's theme song was "Dig This!", which used in 1998 until the end of 2002. However, the remixed version of the theme song was existed since 2001.
In January 2003, the block was given a complete makeover, and was renamed to Diggin' It. The block however, was produced on a lower budget than Diggit and was broadcast from the same studio and set as Studio Disney UK.
On October 14, 2004, GMTV announced to axe the block, as they preferred to take all production of their children's blocks in-house to save money, so on January 30, 2005, the block aired for the last time, and merged with fellow-GMTV block Up on the Roof to form Toonattik. Toonattik was solely produced by GMTV, even though it did air Disney-produced and distributed programming.
Programmes
As the block was produced by Disney themselves, it mostly aired shows produced by Walt Disney Television Animation.
Even though the block mostly focused on Disney programmes, it has also aired programmes from then-Disney owned DIC Entertainment, and during the Diggin' It era, aired some Marvel programming, and aired it's only non-Disney programme - Sabrina's Secret Life, which was produced after DIC was sold off by Disney.
Archie's Weird Mysteries
Gargoyles (Series 1 & 2)
The Incredible Hulk: The Animated Series
Mummies Alive!
Sabrina: The Animated Series
Sabrina's Secret Life
Sonic Underground
Spider-Man: The Animated Series
The Wacky World of Tex Avery
Presenters
When DiGGiT started in 1998, the block was presented by Paul "Des" Ballard & Fearne Cotton, who had previously presented The Disney Club. In December 1998, Jack Stratton joined the presenting team after winning a nationwide search for a new presenter for the block, and left in 2000. In 2001, Fearne Cotton left Diggit and was replaced with Laura Jaye and Victoria Hickson.
During the Diggin' It rebranding in 2003, all the presenters were let go, and were replaced by Abbie Pethullis and former CBBC presenter Liam Dolan, alongside a costumed character named It. Phil Gallagher (at the time, he portrayed the Playhouse Postman on Playhouse Disney UK, and is currently well known for portraying the titular character in the CBeebies series Mister Maker) would join the team as an announcer, and this presenting team remained this way until the block's discontinuation in 2005.