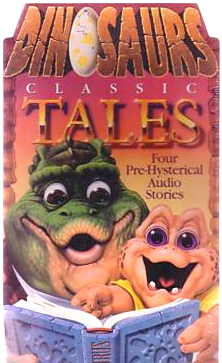 Released on both CD and cassette, Dinosaurs: Classic Tales, written by Richard Marcus, presented versions of classic fairy tales featuring the cast of Dinosaurs, and using the series' voice cast. The dinosaur fairy tales featured Earl Sinclair, Baby Sinclair, Fran, Robbie, Charlene, Roy, Ethyl, and B.P. Richfield in various roles.
The framing story revolved around Earl's attempts to put Baby Sinclair to sleep by telling him a variety of bedtime stories.
The album was produced by Ted Kryczko, Michael Jacobs, Bob Young and George Morency.
Track listing
Community content is available under
CC-BY-SA
unless otherwise noted.