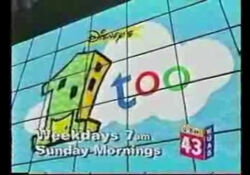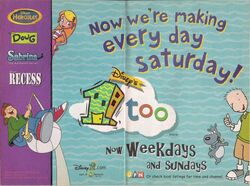 Disney's 1 Too was a children's programming block that aired on Sunday and weekday mornings on UPN. It was a spinoff of Disney's One Saturday Morning, and resembled The Disney Afternoon.
History
In January 1998, UPN began talks with the Walt Disney Company to run a daily two-hour Disney kids block, but the talks with Disney were called off a week later due to a dispute over branding, the block, and deciding how much E/I programming Disney would provide. UPN then began talks with Nickelodeon, at which time UPN made a deal with Saban Entertainment to program the block on Sunday mornings.
In March 1998, UPN resumed talks with Disney and in April, UPN made a deal with Disney to air Disney programming on Sunday mornings (8-10 a.m.) and weekday afternoons (3-5 p.m.). The new lineup, a sister block to Disney's One Saturday Morning on ABC, would be called Disney's 1 Too. Originally announced as "Whomptastic Weekdays" (though changed likely due to it being a word used in the animated series Recess as a substitute for "sucks"), the block debuted on September 6, 1999. The block aired various Disney programmes, alongside then-Disney owned DIC Entertainment show Sabrina: The Animated Series.
The Disney's 1 Too block was also seen in Canada on the family-oriented specialty channel Family Channel, which at the time had been long associated with The Walt Disney Company due to its carriage of Disney-produced feature films and television series.
Many shows formerly featured on 1 Too continued in reruns on Toon Disney and the Disney Channel. The block's last airdate was August 29, 2003, leaving UPN as the only major broadcast television network without children's programming (with the exception of syndicated E/I blocks like the DIC Kids Network, which aired on some UPN stations).
Approximate lineup by seasons
| Date Range | 8:00am (Sun)/3:00pm (Mon-Fri) | 8:30am (Sun)/3:30pm (Mon-Fri) | 9:00am (Sun)/4:00pm (Mon-Fri) | 9:30am (Sun)/4:30pm (Mon-Fri) |
| --- | --- | --- | --- | --- |
| September 6, 1999–February 4, 2000 | Hercules | Disney's Doug | Sabrina: The Animated Series | Recess |
| February 6, 2000–September 1, 2000 | Disney's Doug | Sabrina: The Animated Series | Pepper Ann | Recess |
| September 3, 2000–August 31, 2001 | Pepper Ann | Sabrina: The Animated Series | Buzz Lightyear of Star Command | Recess |
| September 2, 2001-August 30, 2002 | The Weekenders/Sabrina: The Animated Series | Recess | Buzz Lightyear of Star Command | The Legend of Tarzan |
| September 1, 2002-August 29, 2003 | Buzz Lightyear of Star Command | Recess | Digimon | The Legend of Tarzan |