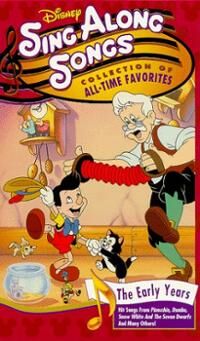 Disney's Sing-Along Songs: Collection of All-Time Favorites: The Early Years is a Disney's Sing-Along Songs video released on July 22, 1997.
Description
Presenting the first volume of the finest collection of Sing-Along Songs available anywhere! Now kids of every age can sing, dance and play along with their favorite characters from the greatest Disney films ever made. And the collection features restored footage and exciting new graphics never before seen!
The timeless magic that is Disney music begins here with the very best from The Early Years (1933-1949). Each memorable song has left a lasting impression from generation to generation, and now for your enjoyment, here are unforgettable hits from such beloved feature-length films as Snow White And The Seven Dwarfs, Pinocchio and Dumbo, as well as Academy Award-winning shorts like Three Little Pigs (Best Cartoon Short Subject, 1932-33).
Songs
Trivia
The video is hosted by Professor Owl (voice-over only, before all the songs).
The following songs were updated with newer lyrics: "Zip-A-Dee-Doo-Dah", "Give A Little Whistle", "Heigh-Ho", "The Three Caballeros", "Casey Junior", and "Bluddle-Uddle-Um-Dum". 
The song "Casey Junior" was previously featured on the UK VHS of "Sing Along Songs: Colours of the Wind" with updated lyrics.
The pages of Disney's Songbook turn during the beginning and end of each song, except for "Zip-a-Dee-Doo-Dah", although the picture of Uncle Remus disappears and we hear him talking on the circle before the song starts; while he sings, the page fades away and the page turns after the kids sing the song.
"When You Wish Upon a Star" uses footage from the special From All of Us to All of You, where Disney characters commence to Jiminy singing, which was also used in Disney Sing Along Songs: Circle of Life.
This volume, along with the other Collection of All-Time Favorites videos, were released in a set instead of separately in the UK.
Gallery
Community content is available under
CC-BY-SA
unless otherwise noted.