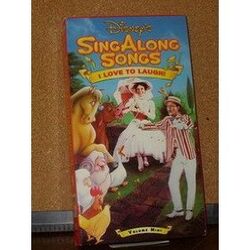 Disney Sing Along Songs: I Love to Laugh! is a Disney Sing Along Songs video released on December 28, 1990.
Songs
With the Talents of
Uncredited
Trivia
Retitled Supercalifragilisticexpialidocious in 1994, featuring new graphics at the start and new end credits.
Known as Mary Poppins: Supercalifagilistico in Spanish, released in Spain.
The "Everybody Has a Laughing Place" sing-along has a montage of various Disney characters laughing.
The sing-along for "The Wonderful Thing About Tiggers" utilizes a new recording of the song, featuring the complete lyrics not present in the original featurettes, and with Paul Winchell reprising the role of Tigger, dubbed over existing footage from the featurettes and The New Adventures of Winnie the Pooh.
The 1994 print featured the gold WDHV logo (with blue background), replacing the 1986 Sorcerer Mickey WDHV logo, which was a video editing error, but was bothered not to be corrected.
This video does not feature a reprise of the title song(s).
Hosted by Ludwig Von Drake.
Gallery
Community content is available under
CC-BY-SA
unless otherwise noted.