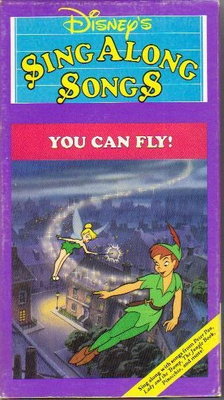 Disney's Sing-Along Songs: You Can Fly! is a Disney's Sing-Along Songs video released on February 2, 1988. Notably the first video in the series to feature Professor Ludwig Von Drake as the host, all of the featured songs are either about flying or taking place in various nations.
Description
Soar to magical heights with this sparkling program of sing-along singing fun! You'll learn the words to a memorable collection of favorite songs with DISNEY'S SING-ALONG SONGS: YOU CAN FLY! Get the whole family together and join a gathering of Disney characters for an enchanted songfest...highlighted by a rainbow of scenes from best-loved animated Classics, movies and cartoons. Get ready...get set...sing!
Sing along with songs from Peter Pan, Lady and the Tramp, The Jungle Book, Pinocchio, and more!
Songs
You Can Fly Reprise
Trivia
Released in 1988 to mark the 35th Anniversary of Peter Pan.
When Ludwig introduces the first song, You Can Fly, a scene from From All of Us to All of You for the intro has been revealed.
†He's a Tramp was cut from the 1994 print and the 2006 DVD, but was retained in the Spanish version.
The original post-credits promo narrated by Ludwig von Drake is also featured on the LaserDisc print, as well as the 2006 DVD. It is also seen on Fun With Music.
During "The Merrily Song", a clip of Fiddler Pig jumping into the water is used from The Practical Pig and a clip of the traffic light switch is used from Susie the Little Blue Coupe.
Known as Peter Pan: Voloras, Voloras in Spanish, released in Spain and the United States. When the Spanish version was released around 1993, He's a Tramp was still on the Spanish version even though it got cut in the English version.
During the reprise of "You Can Fly", portions of the audio are recycled from the Disneyland attraction, Peter Pan's Flight.
Known as Peter Pan: Tu T'Envoles in French, released in France and the United States.
Ludwig von Drake's segments use stock footage from Carnival Time, Fly with Von Drake, Kids is Kids, and A Square Peg in a Round Hole.
With the Talents of
Uncredited
Gallery
Community content is available under
CC-BY-SA
unless otherwise noted.