"A furious storm once roared cross the sea,
catching ships in its path, helpless to flee.
Instead of a certain and watery doom.
The wind swept them here to Typhoon Lagoon."
―Legend of Typhoon Lagoon poem

Typhoon Lagoon is a water park located at the Walt Disney World Resort in Lake Buena Vista, Florida, United States.
The park, which opened on June 1, 1989, is home to the world's largest outdoor wave pool.[1]Its theme is the "Disney legend" of a typhoon that wreaked havoc upon a formerly pristine tropical paradise. Ships, fishing gear, and surfboards are strewn about where the storm flung them. Its centerpiece is Miss Tilly, a shrimp boat impaled upon a mountain named "Mount Mayday" that erupts a 50-foot (15 m) geyser of water from its smokestack every half hour, right before the bells of the watch sound on it. Its mascot is Lagoona Gator who is related to Blizzard Beach's Ice Gator.
Backstory
For as long as anyone could remember, the quaint thatch-roofed village had nestled along the shores of the sparkling lagoon, in the shadows of a great volcanic mountain. Then came the 20th century with its cruise ships, and tourists, and the Placid Palms Resort...a special little place for lucky vacationers each year.
The great storm, however, changed everything... a furious, unrelenting typhoon catching a small fleet of ships by surprise, and tossing them about like toy boats for one terrifying hour. But in the storm's wake was left a remarkable scene.
A surfboard had penetrated completely through a huge tree. A small boat had blown through the roof of one building. A great buoy had crashed through the roof of still another. The Placid Palms Resort was now the Leaning Palms, almost ready to topple over at any moment. A small harbor had been cut off from the sea, trapping an overturned boat and thousands of colorful fish, uh...plus a few sharks along the way.
Nothing, however, topped the sight of the shrimp boat, "Miss Tilly", impaled precariously on the peak of the great volcanic mountain. To this day, the mountain tries vainly to dislodge its unwelcome burden with an enormous geyser of water every half hour.
Well, what nature has done is a little redecorating. The inhabitants were left with the most extraordinary assortment of waterfalls, rapids, pools, surf, and all-around wetness the world has ever seen. The once sleepy resort had been turned into Typhoon Lagoon.
Attractions
Typhoon Lagoon Surf Pool - The largest wave pool in the United States including waves that crash down on the shore every 90 seconds
Castaway Creek - a lazy river that meanders throughout the park
Ketchakiddee Creek - Slides, raft rides, and bubbling jets for little ones
Keelhaul Falls - The mildest of the three raft rides. Single-rider only
Mayday Falls - The wildest of the three raft rides. It is also the longest water slide there.
Gang Plank Falls - A medium-intensity family raft ride located near Mayday Falls and Keelhaul Falls
Humunga Kowabunga - Three-speed slides that plummet the rider down five stories in complete darkness
Storm Slides - Three body slides, that careen down three stories of banks and turns
Shark Reef - Saltwater snorkeling experience with sharks. Closed in 2017.
Bay Slides - Body slides for children
Crush 'n' Gusher - Three different aqua coaster water slides that can have up to three guests ride at a time
Miss Adventure Falls - A two-minute raft ride introduced in spring 2017 focusing on the Society of Explorers and Adventurers character Mary Oceaneer and her parrot, Duncan
Recent Water Park Map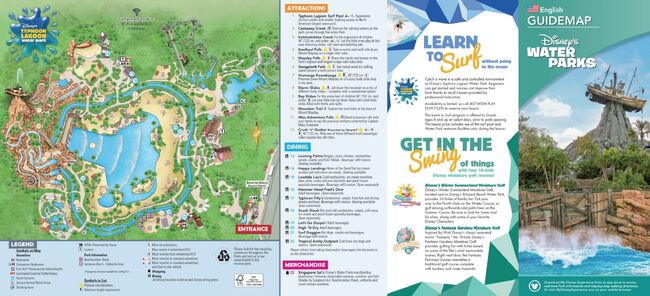 Trivia
Though surfing is prohibited during park hours, Disney does offer programs allowing guests to surf after hours or before the park opens in the morning. WDW books Private Surf Parties for up to 25 wave rides so they can enjoy the 2.75-million-gallon wave pool all by themselves. Waves up to six feet tall will roll every 90 seconds, giving you 100 chances for a great ride in just three hours.
Prior to the park's opening (and to also take advantage of the then-new Disney MGM Studios), a feature film based around the park was proposed, with a script written by Who Framed Roger Rabbit creator Gary K. Wolf. Bringing the backstory of the park to life, the film would also herald the possibility of letting the park be used in other film productions.
Gallery
v - e -

d
Attractions
Typhoon Lagoon Surf Pool • Castaway Creek • Ketchakiddee Creek • Keelhaul Falls • Maydays Falls • Gang Plank Falls • Humunga Kowabunga • Storm Slides • Shark Reef • Bay Slides • Crush 'n' Gusher • Miss Adventure Falls