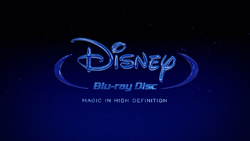 Disney Blu-ray is the brand name under which Walt Disney Studios Home Entertainment releases its Disney-branded movie titles in the form of "high-definition".
In late 2006, the DVD boom was beginning to come to an end. As DVD releases began to decrease in price, Disney began to see a major successor to the DVD in Blu-ray. The Blu-ray format had just been announced, blowing away the press, with its theatrical sound and picture quality, as well as the feature for Blu-Ray players to include backwards compatibility with DVD, which made releasing such films as Pirates of the Caribbean and the National Treasure films on Blu-ray Disc format look and sound like their theatrical prints.
In July 2017, Disney announced that they will release more 4K Blu-ray movies after Guardians of the Galaxy Vol. 2, which was the studios' first 4K Blu-ray release under the Marvel Studios' brand. Like most companies which releases 4K Blu-Ray titles in combo packs, none of the combos come with the DVD.
List of Disney Blu-ray releases
Three of the fifty-eight movies in the Disney Animated Features canon are being released on Blu-ray in the next few years.
Title
Released
Dinosaur
September 19, 2006
Chicken Little
March 27, 2007
Meet the Robinsons
October 23, 2007
Sleeping Beauty: Platinum Edition
October 7, 2008
Tinker Bell
October 28, 2008
Pinocchio: Platinum Edition
March 10, 2009
Bolt
March 22, 2009
Snow White and the Seven Dwarfs: Diamond Edition
October 6, 2009
Tinker Bell and the Lost Treasure
October 27, 2009
The Princess and the Frog
March 16, 2010
Tinker Bell and The Great Fairy Rescue
September 21, 2010
Beauty and the Beast: Diamond Edition
October 5, 2010
Fantasia & Fantasia 2000 2-Movie Collection
November 30, 2010
Alice in Wonderland: 60th Anniversary Edition
February 1, 2011
Bambi: Diamond Edition
March 1, 2011
Tangled
March 29, 2011
The Fox and the Hound 2-Movie Collection
August 9, 2011
Bambi II: Special Edition
August 23, 2011
Dumbo: 70th Anniversary Edition
September 20, 2011
The Lion King: Diamond Edition
October 4, 2011
Winnie the Pooh
October 25, 2011
Beauty and the Beast: The Enchanted Christmas
November 22, 2011
Lady and the Tramp: Diamond Edition
February 7, 2012
The Lion King 1½: Special Edition
March 6, 2012
The Lion King II: Simba's Pride: Special Edition
Home on the Range
July 3, 2012
Treasure Planet: 10th Anniversary Edition
The Aristocats: Special Edition
August 21, 2012
Lady and the Tramp II: Scamp's Adventure: Special Edition
Pocahontas 2-Movie Collection
The Rescuers 2-Movie Collection
The Tigger Movie: Bounce-A-Rrrrific Special Edition
Cinderella: Diamond Edition
October 2, 2012
The Great Mouse Detective: Mystery in the Mist Edition
October 9, 2012
Secret of the Wings
October 23, 2012
Cinderella II: Dreams Come True / Cinderella III: A Twist in Time 2-Movie Collection
November 20, 2012
Peter Pan: Diamond Edition
February 5, 2013
Wreck-It Ralph
March 5, 2013
Brother Bear 2-Movie Collection
March 12, 2013
The Hunchback of Notre Dame 2-Movie Collection
Mulan 2-Movie Collection
Atlantis 2-Movie Collection
June 11, 2013
The Emperor's New Groove 2-Movie Collection
Lilo & Stitch 2-Movie Collection
Oliver & Company: 25th Anniversary Edition
August 6, 2013
Robin Hood: 40th Anniversary Edition
The Sword in the Stone: 50th Anniversary Edition
Return to Never Land: Special Edition
August 20, 2013
The Many Adventures of Winnie the Pooh
August 27, 2013
The Little Mermaid: Diamond Edition
October 1, 2013
Mickey's Christmas Carol: 30th Anniversary Edition
November 5, 2013
Winnie the Pooh: A Very Merry Pooh Year: Gift of Friendship Edition
The Little Mermaid II: Return to the Sea / The Little Mermaid: Ariel's Beginning 2-Movie Collection
November 19, 2013
The Jungle Book: Diamond Edition
February 11, 2014
Winnie the Pooh: Springtime with Roo: Hippity Hoppity Roo Edition
March 11, 2014
Frozen
March 18, 2014
The Jungle Book 2: Special Edition
The Pirate Fairy
April 1, 2014
The Adventures of Ichabod and Mr. Toad: Special Edition
August 12, 2014
The Adventures of Ichabod and Mr. Toad / Fun and Fancy Free 2-Movie Collection
Hercules: Special Edition
Mickey, Donald, Goofy: The Three Musketeers: 10th Anniversary Edition
Tarzan: Special Edition
Sleeping Beauty: Diamond Edition
October 7, 2014
Mickey's Once Upon a Christmas / Mickey's Twice Upon a Christmas 2-Movie Colection
November 4, 2014
101 Dalmatians: Diamond Edition
February 10, 2015
Big Hero 6
February 24, 2015
Tinker Bell and the Legend of the NeverBeast
March 3, 2015
101 Dalmatians II: Patch's London Adventure: Special Edition
June 9, 2015
Aladdin: Diamond Edition
October 13, 2015
The Return of Jafar / Aladdin and the King of Thieves 2-Movie Collection
January 5, 2016
Snow White and the Seven Dwarfs: Signature Collection
February 2, 2016
Pocahontas
March 15, 2016 (Disney Movie Club exclusives)
Mulan
Alice in Wonderland: 65th Anniversary Edition
April 26, 2016 (Disney Movie Club exclusives)
Dumbo: 75th Anniversary Edition
Zootopia
June 7, 2016
Beauty and the Beast: 25th Anniversary Edition; Signature Collection
September 20, 2016
Beauty and the Beast: The Enchanted Christmas: Special Edition
October 25, 2016 (Disney Movie Club exclusive)
Bolt
January 31, 2017
The Fox and the Hound / The Fox and the Hound 2 2-Movie Collection
Lilo & Stitch / Lilo & Stitch 2: Stitch Has a Glitch
Pinocchio: Signature Collection
Mulan / Mulan II 2-Movie Collection
February 28, 2017
Pocahontas / Pocahontas II: Journey to a New World 2-Movie Collection
The Princess and the Frog
Moana
March 7, 2017
Bambi: 75th Anniversary Edition; Signature Collection
June 6, 2017
Bambi II
June 6, 2017 (Disney Movie Club exclusive)
The Lion King: The Circle of Life Edition; Signature Collection
August 29, 2017
The Lion King II: Simba's Pride
The Lion King 1½
Frozen: Collector's Edition
December 16, 2017 (Disney Movie Club exclusive)
The Aristocats
January 2, 2018 (Disney Movie Club exclusives)
The Fox and the Hound / The Fox and the Hound 2 2-Movie Collection
Saludos Amigos: 75th Anniversary Edition / The Three Caballeros
January 30, 2018 (Disney Movie Club exclusive)
Lady and the Tramp: Signature Collection
February 27, 2018
Lady and the Tramp II: Scamp's Adventure
February 27, 2018 (Disney Movie Club exclusive)
Peter Pan: 65th Anniversary Edition; Signature Collection
June 5, 2018
Return to Never Land
June 5, 2018 (Disney Movie Club exclusive)
Pooh's Grand Adventure: The Search for Christopher Robin: 20th Anniversary Edition
July 17, 2018 (Disney Movie Club exclusives)
Piglet's Big Movie: 15th Anniversary Edition
101 Dalmatians: Limited Release
November 6, 2018 (Disney Movie Club exclusive)
Olaf's Frozen Adventure
November 13, 2018
The Little Mermaid: 30th Anniversary Edition; Signature Collection
February 26, 2019
Ralph Breaks the Internet
The Little Mermaid II: Return to the Sea / The Little Mermaid: Ariel's Beginning 2-Movie Collection
February 26, 2019 (Disney Movie Club Exclusive)
The Jungle Book: Limited Release
March 26, 2019 (Disney Movie Club exclusive)
A Goofy Movie: 25th Anniversary Edition
April 23, 2019 (Disney Movie Club Exclusives)
An Extremely Goofy Movie: 20th Anniversary Edition
Cinderella: 70th Anniversary Edition; Signature Collection
June 25, 2019
Cinderella II: Dreams Come True / Cinderella III: A Twist in Time 2-Movie Collection
June 25, 2019 (Disney Movie Club Exclusive)
Aladdin: Signature Collection
September 10, 2019
The Princess and the Frog
Tangled
Wreck-It Ralph
101 Dalmatians: Signature Collection
September 24, 2019
Sleeping Beauty: 60th Anniversary Edition; Signature Collection
101 Dalmatians II: Patch's London Adventure
November 5, 2019 (Disney Movie Club Exclusive)
Frozen II
February 25, 2020
Frozen II / Frozen 2-Movie Collection
February 25, 2020 (Target Exclusive)
Mickey's Christmas Carol
October 20, 2020
Mickey's Once Upon a Christmas / Mickey's Twice Upon a Christmas 2-Movie Collection
Moana/Tangled/The Little Mermaid: Disney Princess 3-Movie Collection
January 19, 2021 (Disney Movie Club Exclusives)
The Best of Mickey: Fantasia/Fantasia 2000/Celebrating Mickey
April 20, 2021 (Disney Movie Club Exclusive)
The Black Cauldron
May 4, 2021 (Disney Movie Club Exclusive)
Raya and the Last Dragon
May 18, 2021
Atlantis 2-Movie Collection
October 12, 2021 (Disney Movie Club Exclusives)
Brother Bear 2-Movie Collection
The Hunchback of Notre Dame 2-Movie Collection
Beauty and the Beast: 30th Anniversary Edition
November 2, 2021 (Disney Movie Club Exclusives)
Make Mine Music
Melody Time
Encanto
February 8, 2022
The Jungle Book
February 22, 2022
The Jungle Book: 55th Anniversary Edition
February 22, 2022 (Disney Movie Club Exclusive)
Snow White and the Seven Dwarfs: 85th Anniversary Edition
March 22, 2022 (Disney Movie Club Exclusive)
The Emperor's New Groove 2-Movie Collection
June 14, 2022 (Disney Movie Club Exclusives)
The Rescuers 2-Movie Collection
Lilo & Stitch 2-Movie Collection
August 9, 2022 (Disney Movie Club Exclusive)
Pixar films
Title
Released
Cars
November 6, 2007 (stand-alone)
April 12, 2011 (combo pack)
Ratatouille
November 6, 2007 (stand-alone)
July 5, 2011 (combo pack)
WALL-E
November 8, 2008 (stand-alone)
July 5, 2011 (combo pack)
A Bug's Life
May 19, 2009
Monsters, Inc.
November 10, 2009
Up
November 10, 2009
Toy Story: Special Edition
March 23, 2010
Toy Story 2: Special Edition
Toy Story 3
November 2, 2010
Cars Toon: Mater's Tall Tales
The Incredibles
April 12, 2011
Cars 2
November 1, 2011
Brave
November 13, 2012
Finding Nemo: Collector's Edition
December 4, 2012
Monsters, Inc.: Collector's Edition
February 19, 2013
Cars: Collector's Edition
October, 2013
Monsters University
October 29, 2013
Toy Story of Terror!
August 19, 2014
Inside Out
November 3, 2015
Toy Story That Time Forgot
November 3, 2015
The Good Dinosaur
February 23, 2016
Finding Dory
November 15, 2016
Cars 3
November 7, 2017
Coco
February 27, 2018
Incredibles 2
November 6, 2018
Toy Story 4
October 8, 2019
Onward
May 19, 2020
The Incredibles/Incredibles 2: 2-Movie Collection
March 2, 2021
Toy Story/Toy Story 2/Toy Story 3/Toy Story 4: 4-Movie Collection
Soul
March 23, 2021
Cars/Cars 2/Cars 3: 3-Movie Collection
May 11, 2021
Finding Nemo/Finding Dory: 2-Movie Collection
Luca
August 3, 2021
Turning Red
May 3, 2022
Lightyear
September 13, 2022
Other animated films
Title
Released
The Wild
November 21, 2006 (stand-alone)
The Nightmare Before Christmas: Collector's Edition
August 26, 2008 (stand-alone)
Ponyo
March 2, 2010
James and the Giant Peach
August 3, 2010
A Christmas Carol
November 16, 2010
Nausicaa
March 8, 2011
Mars Needs Moms
August 9, 2011
Gnomeo & Juliet
May 24, 2011
Castle in the Sky
May 22, 2012
The Secret World of Arietty
Whisper of the Heart
Prep & Landing Totally Tinsel Collection
November 6, 2012
Howl's Moving Castle
May 21, 2013
My Neighbor Totoro
Mickey's Christmas Carol: 30th Anniversary Edition
November 5, 2013
Planes
November 19, 2013
Planes: Fire & Rescue
November 4, 2014
Kiki's Delivery Service
November 18, 2014
The Wind Rises
Princess Mononoke
Porco Rosso
February 5, 2015
Pom Poko
Tales from Earthsea
Spirited Away
June 16, 2015
The Cat Returns
The Nightmare Before Christmas: 25th Anniversary Edition
September 4, 2018
Mickey's Christmas Carol
November 13, 2018 (Disney Movie Club exclusive)
Missing Link (20th Century Studios)
July 23, 2019
Spies in Disguise (20th Century Studios)
March 10, 2020
Mickey's Christmas Carol
October 20, 2020
The Nightmare Before Christmas
Ice Age/Ice Age: Dawn of the Dinosaurs/Ice Age: A Mammoth Christmas Special: 3-Adventure Collection (20th Century Studios)
December 8, 2020 (Disney Movie Club Exclusive)
Valiant
May 4, 2021 (Disney Movie Club Exclusive)
Ron's Gone Wrong (20th Century Studios)
December 7, 2021
Live-action films
Title
Released
Eight Below
September 19, 2006
The Haunted Mansion
October 17, 2006
Glory Road
Sky High
November 21, 2006
Invincible
December 19, 2006
Pirates of the Caribbean: The Curse of the Black Pearl
May 22, 2007
Pirates of the Caribbean: Dead Man's Chest
Bridge to Terabithia
June 19, 2007
Roving Mars
July 31, 2007
Remember the Titans
September 4, 2007
The Santa Clause 3: The Escape Clause
November 20, 2007
Pirates of the Caribbean: At World's End
December 4, 2007
High School Musical 2: Extended Edition
December 11, 2007
Underdog
December 18, 2007
The Game Plan
January 22, 2008
The Rookie
March 4, 2008
Enchanted
March 18, 2008
The Chronicles of Narnia: The Lion, the Witch and the Wardrobe
May 31, 2008
National Treasure
May 20, 2008
National Treasure: Book of Secrets
College Road Trip
July 15, 2008
Camp Rock: Extended Rock Star Edition
August 19, 2008
Hannah Montana & Miley Cyrus: Best of Both Worlds Concert
The Chronicles of Narnia: Prince Caspian
December 2, 2008
The Cheetah Girls: One World - Extended Music Edition
December 16, 2008
Space Buddies
February 3, 2009
High School Musical: Remix Edition
February 17, 2009
High School Musical 3: Senior Year - Extended Edition
Beverly Hills Chihuahua
March 3, 2009
Bedtime Stories
April 5, 2009
Morning Light
June 16, 2009
Miracle
The Greatest Game Ever Played
Jonas Brothers: The 3D Concert Experience
June 30, 2009
Race to Witch Mountain
August 4, 2009
Hannah Montana: The Movie
August 18, 2009
Earth
September 1, 2009
Santa Buddies
November 24, 2009
G-Force
December 15, 2009
Old Dogs
March 9, 2010
Alice in Wonderland
June 1, 2010
Camp Rock 2: The Final Jam - Extended Edition
September 7, 2010
Prince of Persia: The Sands of Time
September 14, 2010
Oceans
October 19, 2010
The Crimson Wing: Mystery of the Flamingos
The Search for Santa Paws
November 23, 2010
The Sorcerer's Apprentice
November 30, 2010
Secretariat
January 25, 2011
Beverly Hills Chihuahua 2
February 1, 2011
Tron: Special Edition
April 5, 2011
Tron: Legacy
Sharpay's Fabulous Adventure
April 19, 2011
Prom
August 30, 2011
Spooky Buddies
September 20, 2011
African Cats
October 4, 2011
Pirates of the Caribbean: On Stranger Tides
October 18, 2011
The Rocketeer: 20th Anniversary Edition
December 13, 2011
Real Steel
January 24, 2012
Treasure Buddies
January 31, 2012
Snow Buddies
The Muppets
March 20, 2012
Father of the Bride 2-Movie Collection
May 15, 2012
The Princess Diaries 2-Movie Collection
John Carter
June 5, 2012
Adventures in Babysitting
August 7, 2012
Chimpanzee
August 21, 2012
Hocus Pocus
September 4, 2012
Beverly Hills Chihuahua 3: Viva la Fiesta
September 18, 2012
Arachnophobia
September 25, 2012
The Avengers
Pete's Dragon
October 16, 2012
The Santa Clause
The Santa Clause 2
Beaches
November 6, 2012
The Muppet Christmas Carol: It's Not Easy Being Scrooge Special Edition
Santa Paws 2: The Santa Pups
November 20, 2012
The Odd Life of Timothy Green
December 4, 2012
Babes in Toyland
December 11, 2012
Dick Tracy
Heavyweights
The Joy Luck Club
Frankenweenie
January 8, 2013
Who Framed Roger Rabbit: 25th Anniversary Edition
March 12, 2013
Oz the Great and Powerful
June 11, 2013
Super Buddies
August 27, 2013
Iron Man 3
September 24, 2013
Mary Poppins: 50th Anniversary Edition
December 10, 2013
Muppet Treasure Island
The Lone Ranger
December 17, 2013
Thor: The Dark World
February 25, 2014
Bedknobs and Broomsticks: Special Edition
August 12, 2014
Captain America: The Winter Soldier
September 9, 2014
The Apple Dumpling Gang: 40th Anniversary Edition
September 9, 2014 (Disney Movie Club Exclusive)
The Computer Wore Tennis Shoes: 45th Anniversary Edition
Million Dollar Arm
October 7, 2014
Maleficent
November 4, 2014
Herbie Rides Again: 40th Anniversary Edition
December 2, 2014 (Disney Movie Club Exclusive)
Guardians of the Galaxy
December 9, 2014
The Love Bug:45th Anniversary Edition
December 16, 2014
Alexander and the Terrible, Horrible, No Good, Very Bad Day
February 10, 2015
Into the Woods
March 24, 2015
McFarland, USA
June 2, 2015
Cinderella
September 15, 2015
Monkey Kingdom
Avengers: Age of Ultron
October 2, 2015
Tomorrowland
October 13, 2015
Ant-Man
December 8, 2015
Star Wars: The Force Awakens
April 5, 2016
November 15, 2016 (3D combo pack)
Operation Dumbo Drop
April 26, 2016
The Finest Hours
May 24, 2016
The Jungle Book
August 30, 2016
November 15, 2016 (3D combo pack)
Captain America: Civil War
September 13, 2016
Alice Through the Looking Glass
October 18, 2016
The BFG
November 29, 2016
Pete's Dragon
Queen of Katwe
January 31, 2017
Doctor Strange
February 28, 2017
Rogue One
April 4, 2017
Beauty and the Beast
June 6, 2017
Guardians of the Galaxy Vol. 2
August 22, 2017
Born in China
August 29, 2017
Pirates of the Caribbean: Dead Men Tell No Tales
October 3, 2017
Spider-Man: Homecoming
October 17, 2017
Thor: Ragnarok
March 6, 2018
Star Wars: The Last Jedi
March 27, 2018
Black Panther
May 15, 2018
A Wrinkle in Time
June 5, 2018
Avengers: Infinity War
August 14, 2018
Hocus Pocus: 25th Anniversary Edition
September 4, 2018
Ant-Man and the Wasp
October 16, 2018
Christopher Robin
November 6, 2018
The Nutcracker and the Four Realms
January 29, 2019
Mary Poppins: 55th Anniversary Edition
March 19, 2019
Mary Poppins Returns
Captain Marvel
June 11, 2019
Dumbo
June 25, 2019
Breakthrough
July 16, 2019
Alita Battle Angel
July 23, 2019
Tolkien
August 6, 2019
Avengers: Endgame
August 13, 2019
Booksmart
September 3, 2019
The Santa Clause: 25th Anniversary Edition
September 10, 2019
The Santa Clause 2
The Santa Clause 3: The Escape Clause
Aladdin
X-Men: Dark Phoenix
September 17, 2019
Child's Play
September 24, 2019
Spider-Man: Far from Home
October 1, 2019
Stuber
October 15, 2019
The Art of Racing in the Rain (20th Century Studios)
November 5, 2019
Where'd You Go, Bernadette
November 26, 2019
Ready or Not
December 3, 2019
Ad Astra
December 17, 2019
Maleficent: Mistress of Evil
January 14, 2020
Ford v Ferrari
February 11, 2020
JoJo Rabbit
February 18, 2020
Star Wars: The Rise of Skywalker
March 31, 2020
Underwater
April 14, 2020
The Call of the Wild (20th Century Studios)
May 12, 2020
Downhill
May 19, 2020
Mulan
November 10, 2020
The New Mutants (20th Century Studios)
November 17, 2020
Herbie: Fully Loaded
June 11, 2021 (Disney Movie Club Exclusives)
Ice Princess
The Kid
The Pacifier
Cruella
September 21, 2021
Darby O'Gill and the Little People
March 8, 2022 (Disney Movie Club Exclusive)
The Gnome-Mobile
Compilation films
4K Ultra HD Blu-ray releases
Title
Released
Guardians of the Galaxy Vol. 2 (Disney's first ever 4K UHD Blu-Ray release)
August 22, 2017
Pirates of the Caribbean: Dead Men Tell No Tales
October 3, 2017
Spider-Man: Homecoming
October 17, 2017
Cars 3
November 7, 2017
Coco
February 27, 2018
Thor: Ragnarok
March 6, 2018
Star Wars: The Last Jedi
March 27, 2018
Black Panther
May 15, 2018
A Wrinkle in Time
June 5, 2018
The Incredibles: Ultimate Collector's Edition
Avengers: Infinity War
August 14, 2018
The Avengers: Cinematic Universe Edition
Avengers: Age of Ultron: Cinematic Universe Edition
Solo: A Star Wars Story
September 25, 2018
Ant-Man and the Wasp
October 16, 2018
Incredibles 2
November 6, 2018
Wreck-It Ralph: Ultimate Collector's Edition
The Lion King: Signature Collection; Ultimate Collector's Edition
December 4, 2018
The Nutcracker and the Four Realms
January 29, 2019
The Little Mermaid: 30th Anniversary Edition; Signature Collection; Ultimate Collector's Edition
February 26, 2019
Captain America: The First Avenger
Ralph Breaks the Internet
Mary Poppins Returns
March 19, 2019
Captain America: The Winter Soldier
April 23, 2019
Captain America: Civil War
Toy Story
June 4, 2019
Toy Story 2
Toy Story 3
Captain Marvel
June 11, 2019
Cinderella
June 25, 2019
Dumbo
Breakthrough
July 16, 2019
Alita: Battle Angel
July 23, 2019
Avengers: Endgame
August 13, 2019
Iron Man
Iron Man 2
Iron Man 3
Thor
Thor: The Dark World
Aladdin: Signature Collection; Ultimate Collector's Edition
September 10, 2019
Aladdin (2019)
Brave
Cars
Cars 2
Finding Nemo
Finding Dory
The Good Dinosaur
Inside Out
Ratatouille
X-Men: Dark Phoenix
September 17, 2019
Maleficent
September 24, 2019
Frozen
October 1, 2019
Guardians of the Galaxy
Doctor Strange
Ant-Man
Spider-Man: Far from Home
Toy Story 4
October 8, 2019

Stuber

October 15, 2019
The Lion King (2019)
October 22, 2019
Big Hero 6
November 5, 2019
Moana
The Princess and the Frog
Tangled
Zootopia
Ad Astra
December 17, 2019
The Jungle Book
January 14, 2020
Maleficent: Mistress of Evil
Ford v Ferrari
February 11, 2020
Jojo Rabbit
February 18, 2020
Frozen II
February 25, 2020
A Bug's Life
March 3, 2020
Monsters, Inc.
Monsters University
Up
WALL-E
Beauty and the Beast (1991): Signature Collection; Ultimate Collector's Edition
March 10, 2020
Beauty and the Beast (2017)
Spies in Disguise (20th Century Studios)
Star Wars: The Phantom Menace
March 31, 2020
Star Wars: Attack of the Clones
Star Wars: Revenge of the Sith
Star Wars: A New Hope
Star Wars: The Empire Strikes Back
Star Wars: Return of the Jedi
Star Wars: The Force Awakens
Rogue One: A Star Wars Story
Star Wars: The Rise of Skywalker
The Call of the Wild (20th Century Studios)
May 12, 2020
Onward
May 19, 2020
Home Alone: 30th Anniversary Edition (20th Century Studios)
September 15, 2020
Hocus Pocus
Mulan (1998)
November 10, 2020
Mulan (2020)
The New Mutants (20th Century Studios)
November 17, 2020
Soul
March 23, 2021
Raya and the Last Dragon
May 18, 2021
Luca
August 3, 2021
Cruella
September 21, 2021
Ron's Gone Wrong (20th Century Studios)
December 7, 2021
Who Framed Roger Rabbit (Touchstone)
Pirates of the Caribbean: The Curse of the Black Pearl
January 2, 2022
Encanto
Febuary 8, 2022
The King's Man (20th Century Studios)
Febuary 22, 2022
West Side Story (20th Century Studios)
March 15, 2022
Death on the Nile (20th Century Studios)
April 5, 2022
Spider-Man: No Way Home (Marvel Studios)
April 12, 2022
Turning Red
May 3, 2022
The Bob's Burgers Movie (20th Century Studios)
July 19, 2022
Doctor Strange in the Multiverse of Madness (Marvel Studios)
July 26, 2022
Heat (20th Century Studios)
August 9, 2022
Lightyear
September 13, 2022
See Also