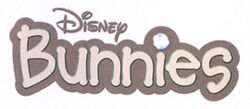 Disney Bunnies is a character merchandising Disney franchise centering on Thumper the rabbit from the classic film Bambi, his mate Miss Bunny, and his multiple, bubbly younger sisters. It is written by Laura Driscall and Kitty Richards, as well as featuring illustrations from Disney Storybook artists. Disney Bunnies was launched on January 15, 2007 along with three books; "I Love You, My Bunnies", "Thumper Counts to Ten" and "Goodnight, Thumper!".
Characters
The characters featured in this franchise also have been stylized as "Disney Cuties" characters on a number of occasions, alongside Bambi the deer and many other Disney characters.
Primary Characters
Other Characters
Merchandise
As its name suggests, it specializes in merchandise modeled after these characters, ranging from books, toys, clothing, backpacks, pens, and other forms of memorabilia. Albeit it isn't as prestigious as the Disney Princess or Disney Villains franchises, merchandise rendered in Thumper's likeness is staple in the commercialism of the film Bambi and can be purchased in a multitude of retailers, perhaps even more so than items relating to the character of Bambi himself.
Gallery
Community content is available under
CC-BY-SA
unless otherwise noted.