Disney Channel Original Movies or DCOM (formerly a "Zoog Disney Channel Movie") is any movie that is produced under the Disney Channel canon. They have been made at a rate of at once a year since 1999. The first Disney Channel Original Movie was the movie Tiger Town.
This is a list of movies produced for the U.S. cable channel Disney Channel. Such movies are currently called Disney Channel Original Movies (DCOM), and were previously known as Disney Channel Premiere Films.
At their peak, the DCOMs were released at a rate of approximately one per month, although this trend has slowed to an average one every two months. Although in the summer, it's about three movies in three months usually for some marathon or theme they have celebrating summer. Most hit films are subsequently released on home video.
Starting April 5, 2021, Disney Channel has started doing a DCOM & Dessert event every Monday where Disney Channel stars, old and new, all watch a DCOM along with a special dessert or treat based on the movie. This event will go on every Monday at 7 PM until May 24, 2021.
Disney Channel Premiere Films
1983
Just Like Mr. Sunny (December 4, 1983)
1984
1985
1986
1987
1988
1989
1990
1991
1992
1993
1994
1995
1996
1997
The Paper Brigade (February 25, 1997)
Northern Lights (August 23, 1997) (considered be some sources as the 1st Disney Channel Original Movie, but wasn't included in Disney Channel's 100 Original Movies celebration)
Disney Channel Original Movies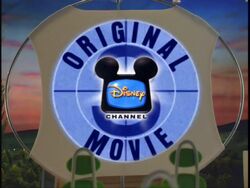 1997
1998
Halloweentown (October 17, 1998) (part of the Halloweentown series)
1999
2000
2001
2002
2003
2004
2005
2006
2007
2008
2009
2010
2011
2012
2013
2014
2015
2016
2017
2018
2019
2020
Upcoming Movies
Unofficial DCOMs (Disney Channel Presentation)
These movies premiered on Disney Channel during the DCOM era, but do not hold the official DCOM tag. They are often confused as official DCOMs.
2003
2006
2008
2009
2010
2012
2013
2014
2015
2017
2018
2019
2020
2021
Highest rated Disney Channel Original Movie premieres
2002-present
High School Musical 2 (17.2 million viewers)[1]
Teen Beach 2 (13.5 million viewers)
Wizards of Waverly Place: The Movie (11.4 million viewers)
Descendants (10.5 million viewers)
Descendants 2 (8.9 million viewers)
Princess Protection Program (8.5 million viewers)
Teen Beach Movie (8.4 million viewers)
The Cheetah Girls 2 (8.1 million viewers)[3]
Camp Rock 2: The Final Jam (7.9 million viewers)
Cadet Kelly (7.8 million viewers)[4]
Return to Halloweentown (7.8 million viewers)[3]
Gallery
External links
References