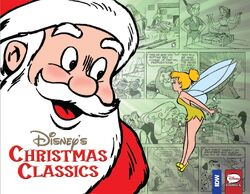 Disney Christmas Story was an annual newspaper comic strip created by Frank Reilly and distributed by King Features Syndicate that ran every holiday season from 1960 to 1987, always ending on Christmas Eve. As the title suggests, each story was a Christmas story starring characters from Disney animated films, often multiple films, usually with the characters having to save Christmas when one of the villains (or some of the villains teaming up) attempts to ruin it. Although there was very little continuity between storylines, several characters appeared in multiple storylines, such as the Seven Dwarfs being regular helpers to Santa Claus. The strip did not feature any appearances by Mickey Mouse and/or Donald Duck, though Ludwig Von Drake guest-starred in the 1962 story arc, and the Beagle Boys were the featured villains in the 1971 arc.
Frank Reilly wrote every story in the strip for its first fifteen years, with his last storyline, "Santa and the Pirates", coming following his retirement in 1975. Carl Fallberg, who also wrote for Disney's Treasury of Classic Tales comic strip, took over the strip from that point onward and wrote every story from 1976 to 1984, as well as the last installment of the series in 1987. For 1985 and 1986's stories, Floyd Norman handled the writing duties.
After the strip's initial run ended in 1987, it was revived as Disney Holiday Story, which ran each holiday season from 1992 to 1997. Unlike its predecessor, the Disney Holiday Story strips typically starred the characters from the latest Disney animated film at the time of publication (with the exception of its final storyline, which instead served as a tie-in with the theatrical re-release of The Little Mermaid).
In 2017, IDW Publishing published a hardback book titled Disney's Christmas Classics, which collected almost all of the storylines from both iterations of the strip's run, with the exception of the 1986 storyline, "Zip-a-Dee-Doo-Dah Christmas", which featured characters from Song of the South (even though Br'er Bear had also appeared in the 1980 storyline, "Santa's Magical Christmas Helpers").
Community content is available under
CC-BY-SA
unless otherwise noted.