Oh, d-d-d-d-dear!
It has been suggested that this page, or a section of it, be extended.
Once the points are expanded, any user may remove this tag.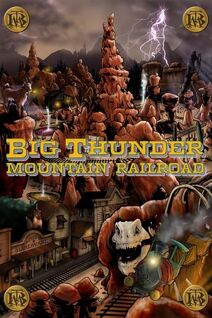 Big Thunder Mountain Railroad is the third Disney Kingdoms miniseries, based on the attraction of the same name.
Description
"Millions of fans have climbed aboard the "wildest ride in the wilderness"—and now Marvel hurtles you through the mists of time to reveal the never-before-told saga of how the dangerous gold mine of Big Thunder Mountain became the haunted legend it is today! Malevolent mine owner Barnabas T. Bullion is determined to shelter his teen daughter Abigail from the dangers of the Wild West, but this brave young hero has other ideas…which include robbing her own father's mine as a masked bandit! Earthquakes! Floods! Dynamite-chewing goats! Can the denizens of Rainbow Ridge survive the clash between mankind's greed and nature's fury? And what is the protective power that dwells deep within the mysterious mountain? Surprises await you in the latest Disney Kingdoms saga by the acclaimed duo of Dennis Hopeless (Spider-Woman) and Tigh Walker (Avengers Undercover)!"
Cover Gallery