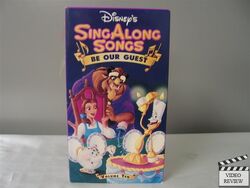 Disney Sing Along Songs: Be Our Guest is a Disney Sing Along Songs video released on June 19, 1992.
Songs
Heffalumps and Woozles (Winnie the Pooh and the Blustery Day/The Many Adventures of Winnie the Pooh)
Beauty and the Beast (Beauty and the Beast)
Chim Chim Cher-ee (Mary Poppins)
Be Our Guest Reprise
With the Talents of
Uncredited
Trivia
†"Little Wooden Head" was cut from the 1993 and 1994 prints and the Laserdisc print, plus all international releases (Pinocchio was featured on the back cover initially, but later prints replaced him with Pooh), but returns in Colors of the Wind and The Early Years.
In "The World's Greatest Criminal Mind", an entire segment where Bartholomew gets punished for calling Professor Ratigan a rat is removed (likely as much because it was originally a very long segment where there was hardly any singing as because of its Mood Whiplash for the darker), as is a portion earlier on mentioning the drowning of widows and orphans and praising Ratigan for it and another portion featuring a harp solo from Ratigan.
Known as La Bella y el Bestia: Nuestro Huesped in Spanish, released in Spain and the United States. Known as Que Festin in Spain.
Jiminy Cricket's segments use stock footage from You and the Living Machine, You Are a Human Animal, I'm No Fool... Having Fun, You and Your... Ears, This is Your Life, Donald Duck, You and Your... Senses of Smell and Taste, You and Your... Sense of Touch, and You and Your... Five Senses.
Gallery
Community content is available under
CC-BY-SA
unless otherwise noted.