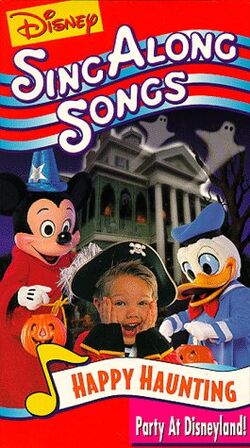 Disney Sing Along Songs: Happy Haunting at Disneyland
is a Disney Sing Along Songs Video released on
August 25
,
1998
, on VHS and
September 5
,
2006
, on DVD.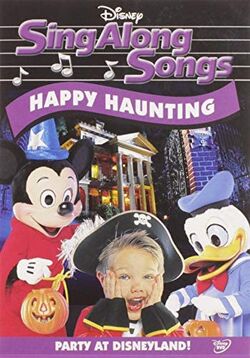 Summary
A Halloween party is being hosted at the Haunted Mansion, and everyone is invited! Between songs, a subplot features three children—Zach, Sally, and Sam—going on a pumpkin hunt, help decorate, read from The Legend of Sleepy Hollow, and look for costumes to wear. After trick-or-treating, the guests gather for "The Monster Mash".
Songs
"It's Halloween"
"Five Little Pumpkins"
"Chicken Lips and Lizard Hips"
"Five Little Witches"
"Spooky Scary Skeletons"
"Casting My Spell"
"The Monster Mash"
Cast
Isaiah Griffin as Sam
Rachel Ham as Sally
Tyler Hoechlin as Zach
Dancers
Murray Phillips
Troy Magino
Yvette Mayes
Stella Choe
Leilani Copp
Peter Duda
Voice cast
Halloween Partygoers
Christopher Allison
Katelyn Bailey
Michelle Berry
Megan Bright
Dustin Charpie
Kevin Ray Chester
Paul Wayne Coleman
Natasha Czuchow
Alora Frazier
Jennifer Glazebrook
Alan Hatfield
Heart Hayes
Courtney Heard
Tanner Hoechiln
Lindsey Howard
Jose Isoroja
James Junio
Michelle Khazaryan
Frankie Larez
Tara Marie Larez
Star Lujan
Rebecca McFarland
Shane Menold

Alex Morency
Madison Morency
Natalie Moy
Tristian Nugent
Candace Peecher
Ryan Pina
Nathan Pratt
Staci Pratt
Daniel Price
Kiersten Price
Rose Rayman
Jacob Rice
Shayna Rogers
Jessica Schumacher
Sandra Skirvin
Emma Stuart
Katy Tang
Melody Terry
Khadeem Thomas
Khaleed Thomas
Tommy Tyrell
Eleanor Woffinden
Eric Wright
Trivia
This is the only live-action video to feature different costumes of Donald, Daisy, Huey, Dewey, and Louie.
It is also the only live-action video where Donald does not speak.
Hosted by the Magic Mirror from Snow White and the Seven Dwarfs.
Community content is available under
CC-BY-SA
unless otherwise noted.